April Whitehouse Biography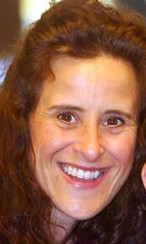 April Whitehouse, from Bournemouth in Dorset, is mum to Jacob, 16, and Samuel, 13. Her life was transformed on 6 October 2009 when eldest son Jacob, then aged nine, was diagnosed with a rare brain disease which doctors claimed would kill him within two years. From that day April, who runs an electronics company, and husband Martyn, a self-employed plumber, set about finding a cure for the genetic condition ALD or Adrenoleukodystrophy.
For while April admits that Jacob's diagnosis was devastating, she refused to give in to negativity.
'Something deep inside told he wasn't going to die so we threw all our energies into keeping him alive,' says April, 46. 'And the first thing we did was to give him hope. That positive attitude has carried us all through, especially during some very bleak times.'
Today Jacob is a happy, thrill-seeking teenager who has just completed a skydive for charity and plans to sit fiveGCSE's next year while April helps and advises families and carers of disabled children.
Her memoir Saving Jacob charts the incredible journey of their family and the local community to keep Jacob alive.
'Now I'd just like to offer that hope to others out there who are struggling in the darkness, to reassure them that they are not alone. Never give up! Even when it seems the world is against you, there is always room for hope.'