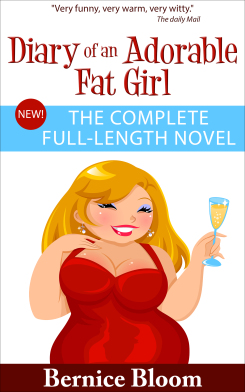 Mary Brown is funny, gorgeous and bonkers. She's also about six stone overweight. When she realises she can't cross her legs, and has trouble bending over to tie her shoelaces without wheezing, it's time to take action. But what action? Mary has tried every diet under the sun: egg-based, plant-based, protein-based – there's no diet she hasn't put herself through. This time she needs to take proper, serious action, so she heads to a local community centre and signs up for a 12 week course for people who have trouble with overeating…and that's where all the fun starts.
Mary meets a collection of people at the sessions that they fondly call 'Fat Club'. The characters accompany her through her weight loss adventure. The hero in our story is Ted - a larger than life character who has a soft spot for her, but who Mary thinks is a little too jolly and over-confident. She dismisses his advances and keeps him at arm's length while she continues to flirt and fawn after Downstairs Dave, the hunky, good looking guy who lives in the flat below and – though he comes to show a warmer side to his personality later in the book – initially just uses her for sex.
Despite Mary's initial lack of interest in Ted, he slowly gets under her skin, and she starts to quite like him, but not before she's annoyed him so much with her obsession with the bloke downstairs that he's pulled away completely and decided that he's no longer interested. She fights to win back his affection, including announcing to the whole group, on the last session of the introductory course, that she really likes him, travelling out to Amsterdam to 'bump into him' and forming an action group amongst her friends in order to win his heart.
The humour is balanced by a look at the real problems being suffered by the characters as they fight to lose weight. One of the women, Janice, tries to commit suicide because she can't cope with the emotions she's feeling after her mum died: the same feelings that have led to her over-eating. There's Veronica who was a model for years and didn't eat anything. In retirement she's put on weight because she's eating for the first time and can't control her appetite. We learn that Mary was a gymnast when younger, and that something happened to her when she was a child that badly affected her emotionally, and led to her using food to make herself feel better. She will not tell the group what happened.
The book follows the characters on the course and between the first and second courses, as the relationship between Mary and Ted progresses, then falters. Then the characters all head for the second course where, much to Mary's anguish, there's a new person there…someone younger, blonder and more adorable than her. Mary is enraged by this hideous development and lashes out at Ted who she thinks is flirting too much. Along the way, Mary has driving lessons from Downstairs Dave which involve them almost getting arrested, and when she's spotted with Dave, it nearly results in her losing Ted forever.
The love affair that develops between Mary and Ted forms the lynchpin of the novel, but it is played out over the insecurities of losing weight and learning to trust one another. At the end, Mary finally tells Ted what happened to her when she was young which still causes her so many emotional problems. She talks about the time she saw a fellow gymnast land on her neck and be paralysed for life, and the way her grief was exploited by a coach at the gymnastics club who raped her on a training weekend. Mary's revelations bring the couple closer than ever, and by the end of the novel they are truly happy, looking forward to a bright future together.