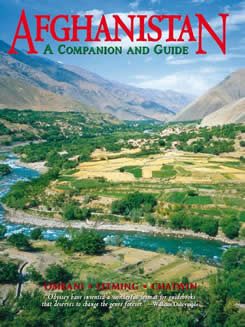 Thanks to 20 years of civil war and its association with terrorism, Afghanistan is now unjustly thought of in the West as a barbarous backwater. Afghanistan: A Companion and Guide aims to dispel this image in a comprehensive introduction to 3,500 years of Afghan culture. Starting with a full history of the country from 1500 BC, each chapter looks at the major cities and regions, describing their distinctive cultural and ethnic traditions, their associations with poets, artists, musicians, travellers and holy men, as well as warriors and conquerors.
Experienced Afghan traveller Matthew Leeming contributes detailed information for those who intend to visit the country as tourists, with guides to specific cities and areas, as well as more general advice. Elizabeth Chatwin, whose famous 1970s journey to Afghanistan with her husband Bruce Chatwin and poet Peter Levi was immortalised in The Light Garden of the Angel King, contributes an introduction.
A number of specialist essays by leading experts further present topics such as archaeology, architecture, carpets, miniature painting, music, flora and fauna. Wonderfully illustrated with superb images from world-renowned photographers, this book also features engravings, paintings and images of priceless museum artefacts. This lavish publication reveals the immense treasury of cultural, historical and natural wealth too frequently forgotten that is Afghanistan.