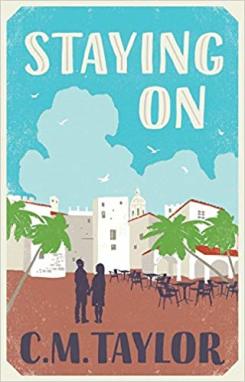 Staying On is a geriatric coming-of-age story, a comedy drama about an ex-pat family crushed by an un-processed bereavement. But it's also an unlikely buddy story played out across class, gender and generational lines between a wounded working patriarch and his gutsy, complicated daughter-in-law.
Our protagonist is Tony Metcalfe, a seventy-year-old Yorkshireman. His story is as old as Homer: he wants to go home but can't. Tony and his wife Laney Metcalfe run Viva Espagñe, a bar in a small village in the mountains beyond the Costa Blanca.
Set amongst the bawdy working class ex-patriates of Spain – the por favors as the Spanish call them - the monoglot, post-war babies who retired early on good pensions, flocking to the dream of wine and rest and sun around the pool.
But now their retirement paradise is shadowed by Brexit. The pound has fallen, pensions are frozen, they might even be thrown out of the country, and the property crash happened long ago. But it's not just economics. Many are terrified of being widowed and stuck away from home alone. It is a marooned world of tremendous pathos, and one which I know very well, having lived in the valley where the novel is set.
Tony dreams of moving back to enjoy the remainder of his life in his childhood home, but Laney wants to stay in the happy valley and forget about England and the dark, unresolved feelings it provokes. Tony and Laney lost a daughter in an accident, and while Laney's never brought herself to say it, instead she's waspish and drunk, Tony knows his wife blames him. After all, their daughter died 'on his watch'.
Tony loves his wife and keeps his dreams to himself. He also keeps it to himself that Viva is losing money. He couldn't go home even if he tried. Nobody would buy an ailing bar in a recession.
Tony's only chance of getting home lies in being honest with himself, puncturing the silence and blame in his marriage, and turning his bar to profit to sell. This looks impossible for passive, amiable Tony until his only son Nick Metcalfe arrives for an unexpectedly long stay, bringing his young family – wife Jo and son Fred - and his own rites-of-passage turbulence.
An unlikely buddy story plays out between middle-class Jo, from the same Yorkshire village back home, and her working-class father-in-law. But charming, motivating Jo is not all she seems, a fact revealed when she stops Tony going off the rails by admitting her own secret - she was involved in the death of Tony and Laney's daughter.
Now Jo's secret is Tony's to tell. Not that he will. And not that Tony will get home. By seeking to make a success of his bar to sell it, Tony will come to change his view of what home really is, as the Spanish locals, especially rival bar owner Pepe, impact joyfully on Tony's closed, quiet life.