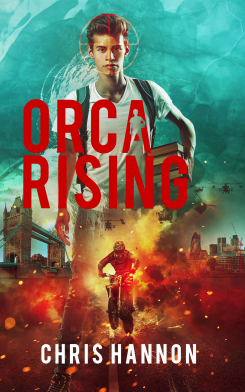 Sixteen-year-old Ocean Daley is a clever, athletic teenager living in a normal seaside town with his hippy Mother and her obnoxious boyfriend Andy. Sick of being mollycoddled at school and being pressurised into summer work with Andy, Ocean finds solace swimming in the sea; a place where he tries and repeatedly fails to reconcile his buried feelings for his deceased father. After final exams, Ocean's mysterious Uncle Frank offers him a change of scene and an alternative: a place at a summer school for gifted pupils in the Midlands.
Seeing his way out, Ocean accepts and quickly befriends one of the school's six students: computer genius Dante. Life at the school is the breath of fresh air he needed, with strange lessons, such as lie-detecting, assault courses and advanced coding, but when Ocean recognises one of the teachers, he grows suspicious of the school's real purpose. With Dante's help, they hack into the school's computer system and discover alarmingly detailed dossiers on each of the students. Ocean confronts Frank and learns the school's purpose once involved his father, but is only promised answers if he passes the initiation tests. Determined to pass, Ocean gives it everything and scrapes through the tests. One student, Vasile, fails and is expelled from the school.
Having passed initiation, Ocean learns that he has been recruited to join Orca, a spy organisation founded by his father, now run by his uncle, dedicated to ending war. Proud of his father's vision, Ocean feels the distance close between them and seeks to get closer by following in his father's footsteps by throwing himself fully into the new high-tech, spy-orientated classes.
Ocean excels and earns his first field mission: to plant a bug in a reporter's phone at the Wimbledon tennis finals. Mid-operation he hears an alarming rumour that 'expelled student' Vasile has been found dead back at the school. Unsure if it is a joke, a test or true, Ocean carries on with the mission and enlists Dante's help to investigate. Ocean successfully plants the bug, completing his mission when Dante returns with the news. Orca murdered Vasile and worse yet: the bug Ocean had just fitted wasn't a bug. It was a bomb, and part of an assassination plot. Distraught and desperate, Ocean seeks to undo his work as unwitting assassin. As the clock runs out of time, Ocean resorts to a desperate fight to secure the bomb and throws it out of harms way seconds before it explodes.
In the aftermath, Ocean runs, and gets a call from Frank, threatening to kill him and his family. He desperately searches for his Mum but Frank has already abducted her. With the trail still hot, Ocean steals a motorbike and chases Frank's Mustang through the London streets at breakneck speed. The chase hits traffic at Tower Bridge and Frank takes his hostage on foot to one of the towers. Ocean catches up with them in the glass walkway. Frank baits Ocean, revealing that Orca's aim is to achieve peace by fomenting a religious apocalypse first. Then, that it was he, Frank, who killed Ocean's father. Ocean flies into a rage and runs at Frank, straight into a trap. The glass shatters, Ocean falls through the walkway floor and dangles above the bridge, hanging on to a support strut. He survives Frank's attempts to dislodge him, but hasn't the strength to hold much longer. Suddenly, Frank falls into the gap, pushed by Ocean's Mum. Ocean's joy is cut short. He's grabbed and yanked down by the falling Frank. He can't hold it and they fall, Frank hitting the river first, then Ocean. He loses consciousness and dreams of how his father once swam him back to safety from deep at sea. When he wakes, his arms are broken and he struggles to the riverbank. Uncle Frank's fedora washes up beside him, though there is no sign of the body.
After extended treatment in hospital, Ocean reunites with his Mum and returns home to convalesce. He's mended his fractious relationship with Andy, is happier with the prospect of home and school and is finally more at peace with his father's memory. When MI5 question him, they try to enlist his help to track down the remnants of Orca.
Ocean says no. For now.