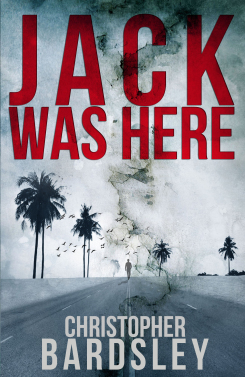 Jack Was Here is a contemporary thriller set in Australia, Thailand and Cambodia. The plot revolves around the disappearance of 19 year-old backpacker Jack Kerr from the beaches of southern Thailand. Jack's parents quickly find the official avenues of investigation produce nothing more than silence. As the weeks turn into months, they begin to grow desperate. They need somebody willing to do whatever it takes to recover Jack. As a last resort, they reach out to a family friend with a deeply troubled past. Their instructions are simple- find him, and do whatever it takes to bring him home. The novel is written from the perspective of Hugh Fitzgerald, the person tasked with finding Jack.
Fitzgerald is a troubled figure. In the aftermath of a violent end to his military career, he is receiving treatment for post-traumatic stress disorder. Five years later, his physical wounds have healed but Fitzgerald is still coming to terms with his experiences. The beginning of the novel finds him at rock bottom, with his relationships in ruins and any sense of purpose little more than a distant memory.
Fitzgerald begins his investigation into the enigmatic figure of Jack Kerr. He immediately starts to recognise similarities between Jack and himself. This lends Hugh an unusual instinct for picking up his trail, and also creates a level of personal investment in the task. The more Hugh learns, the more he recognises. The more he sees of himself in Jack, the more determined he becomes to prevent him from suffering the same sort of trauma that ruined his own life.
Fitzgerald remains severely traumatised by his experiences in Afghanistan, and equally dismayed at the terminus his life seems to have arrived at in the aftermath. Desperate to atone for his mistakes, finding Jack becomes more than a job to him. As he gets closer, Jack becomes a haunting image of his lost innocence and recovering him becomes the only path to Hugh's redemption. Perversely, as he approaches his target Hugh is forced to resort to several desperate acts of violence. The novel concludes in Poipet, a border town between Thailand and Cambodia, where Hugh finds Jack in the clutches of a heroin-trafficking organisation with an otherworldly reputation for brutality.