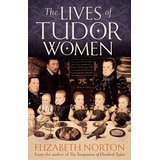 The Tudor dynasty is remembered for its queens, with the six wives of Henry VIII and Mary I and Elizabeth I shaping England's destiny. But, what were the lives of Tudor women really like? How were they raised, how did they live and how did they die? Were women sent to school, did they take paid employment and were the political careers of the Tudor queens really so exceptional? These questions and many more are answered in The Lives of Tudor Women, which is the first comprehensive look at the experiences of 50% of the English population in the period.
Elizabeth Norton explores the seven ages of Tudor women, from childhood to old age. She looks at the divergent examples of Elizabeth Tudor, daughter of Henry VII, who died in infancy and her wet nurse, Cecily Burbage; Elizabeth Barton, a peasant girl who was lauded as a prophetess; Elizabeth Boleyn, who was the mother of a controversial queen; Anne Askew, a religious agitator and Elizabeth I, one of England's longest-lived queens, amongst many others. Their stories are interwoven with studies of topics ranging from toys to contraception, religious vows to suicide, cookery to witchcraft.
In this, the most comprehensive account of the lives of Tudor women ever to be produced, Elizabeth Norton paints a portrait of the lives of queens and serving maids, nuns and harlots, widows and chaperones.