Emma J Wells Biography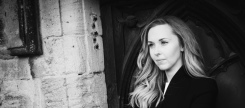 Dr Emma J. Wells' background is reflective of her varied knowledge, career, and interest in many aspects of the history of Britain. She is a historian, author, and academic. An authority on historic buildings (particularly medieval ecclesiastical) and their social history, Emma is a stalwart of the buildings history approach which seeks to understand people through their surroundings – an approach she also employs to her writing. She holds a BA (Hons) in History of Art and an MA with Distinction in Buildings Archaeology from the University of York, while her PhD was awarded by Durham University on An Archaeology of Sensory Experience: Pilgrimage in the Medieval Church, c.1170-c.1550, for which she was a British Archaeological Association Ochs Scholar and the recipient of the Society for Church Archaeology Research Grant.
Between 2009 and 2014 Emma was a lecturer/tutor for Durham University's Archaeology and Combined Honours departments, a Visiting Lectureship at York St John University in Theology then followed. She was them appointed as a Course Director for the department of History at the University of York. Simultaneously, Emma set up her own historic buildings consultancy which went from strength to strength. In January 2016, she was made an Associate Lecturer for York's Centre for Lifelong Learning.
Her television work includes research for BBC 2's Britain's Lost Routes, Channel 4's Time Team, and an appearance on the BBC1 history documentary 'From the Dales to the Sea – A Great British Story' (presented by Helen Skelton) in conjunction with Michael Wood's series The Great British Story – A People's History. She was also a historical advisor to the British Museum's Treasures of Heaven exhibition, and the Lindisfarne Gospels Leverhulme Trust project.
Emma is an engaging speaker and truly at ease in front of audiences and the media – she has given talks across the UK. She has also penned many newspaper and magazine articles, published academic articles and chapters, and reviewed a large number of books. Emma's latest book, Pilgrim Routes of the British Isles, is to be published by Crowood Press in August 2016. Her next will be a major academic work on the sensory experience of the medieval pilgrimage church.
When not writing or teaching, Emma can be found with her head in a book or her feet at the threshold of a country house, castle, or church.
She lives in North Yorkshire.
How I Found the Agency
After deciding to take a small step back from consultancy work and return to my historical research roots, I felt the time was right to search for an agent. I had spent several years admiring the work of Andrew and his many prestigious historian clients, and felt too many ideas were sat bubbling in the brain not to contact him. I was immediately taken with Andrew's enthusiasm and support for myself and my work, and together we began collating and sifting through the melding point of possible topics.