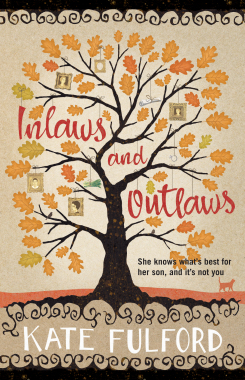 Eve has an idiosyncratic relationship with the truth, is a borderline psychopath (at least according to her friend Claire), and has a rather colourful past. But her heart is in the right place. Having recently embarked on a relationship with Gideon everything seems, at last, to be working out rather well for her. Then she meets Gideon's mother.
Orphaned at an early age Eve has little experience of mothers, but she is pretty sure that Marjorie is not the 'amazing' specimen Gideon believes her to be. Eve's concerns are heightened when she meets Gideon's sister and brother-in-law, who warn her to be wary of Marjorie, who will go to great lengths to get her own way. Gideon, however, can see no wrong in his mother.
Eve eventually learns that Gideon's devotion to Marjorie is based on an act of self sacrifice. As a teenager it was thought that Gideon might need a kidney transplant. When he didn't Marjorie made a living donation of one of her kidneys to another family, claiming that she couldn't bear another mother to go through what she had.
In the meantime Eve experiences firsthand the lengths Marjorie will go to put an end to her relationship with Gideon. Then a chance meeting with Marjorie's estranged identical twin, Meg, confirms Eve's worst fears about Marjorie's character. Determined to neutralise Marjorie's influence over Gideon, Eve uses information garnered from Meg to expose Marjorie's misappropriation of an inheritance intended for her children. The plan, however, backfires and Marjorie emerges more amazing than ever in her son's eyes.
Unsure of how to proceed following this failure, Eve gets help from an unexpected quarter, an ex girlfriend of Gideon's. She tells Eve that Marjorie has a secret blackmail file hidden in her house. Eve and Meg search Marjorie's home and find the file, but are discovered by Malcolm, Gideon's father. Surprisingly he lets them go but Meg, always rather light fingered, has also taken a very expensive ring of Marjorie's.
Prompted by Malcolm, Eve uses the file as leverage to negotiate a ceasefire with Marjorie. Marjorie agrees as long as the ring is returned. Eve's happy ending is not to come so easily however. Marjorie believing, erroneously, that Eve is highly allergic to asparagus slips some into her food and also tries to throttle Meg, who she has discovered has the ring.
Eve comes up with a plan she believes will keep both her and Meg safe by ensuring that Marjorie will never see her ring again should anything happen to either of them. Meg, however, ruins the plan by producing the ring in front of Marjorie. In the resulting showdown Eve throws the ring into a frozen, snow covered pond. Marjorie, unaware of the pond's existence, falls through the ice trying to retrieve it. In an ambulance on the way to hospital, Meg astonishes Eve by assuming Marjorie's identity. Eve is certain this can't possibly work, but when Malcolm and Gideon arrive they readily accept Meg as the now dead Marjorie. Eve can finally get on with her life without Marjorie's malign interference.
Then Gideon announces that he agreed to the donation of the dead woman's organs. The lack of a kidney will surely reveal that it is Marjorie, not Meg who died, blowing the deception out of the water. In a final twist, however, it transpires that Marjorie was in possession of both kidneys, having lied to Gideon in order to gain control over him. Eve can now live happily, if not ever after, at least for the foreseeable future.