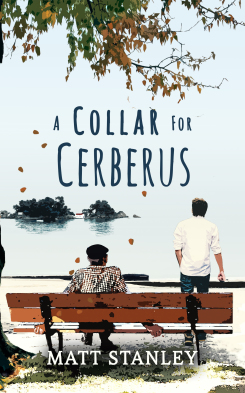 Embittered Nobel Prize-winning novelist Irakles Bastounis is 78 and dying from an inoperable brain tumour. He's not published anything for two decades and has money problems. He was given six months to live six months ago.
A callow English backpacker arrives in Bastounis's village in search of experience. Fresh out of university and with a thirst for self-discovery, he's on a pilgrimage to meet his favourite writer. Bastounis, realising the youth is his ticket to one final epic farewell to Greece, persuades the lad to drive him with a promise of twelve challenges whereby one might live the fullest and truest life.
The Englishman's perspective is our narrative. He has no idea about the tumour or the real reasons for the journey, believing it to be research for a final book. Thus, the man approaching the end of his life counsels the man beginning his as both explore what they know through a fractious road-trip relationship.
They go first to Nafplio via ancient Tiryns, where Bastounis digs up the Nobel medal he'd buried there. In Nafplio the young man loses his phone in favour of greater freedom. He's fleeing everything his family and society demand of him. Meanwhile, a strange man quizzes him about Bastounis's journey.
In Monemvasia, Bastounis passes on his knowledge about women and our narrator reveals more about the love he left behind. In Gytheio, Bastounis demonstrates how to enjoy food the Greek way and the young man faces his first monster: a violent Romanian pimp. Bastounis faints but passes it off as overeating. Together they rescue one of the pimp's girls and name her Calypso, taking her south to safety in Gerolimenas in the deep Mani.
Here, Bastounis teaches his acolyte how to catch octopus, but is later discovered injecting morphine. Is he still an addict? Without Calypso, they drive on towards Olympia, picking up a hitchhiker named Buddy: an American chancer who threatens to usurp the Englishman's discipleship.
In Olympia, Buddy attempts to steal Bastounis' morphine supply, precipitating a fight in which Bastounis suffers a major seizure and Buddy is arrested for prior credit-card theft. The Englishman discovers the truth about the tumour and the imminent death but chooses to continue all the same.
On Ithaca, Bastounis meets an estranged granddaughter who warns our narrator of how manipulative Bastounis can be. As if to prove it, the writer appears to attempt suicide from a cliff and has to be talked down. It's here that the Englishman discovers that his travel journal has been read and used by Buddy for a blog that reveals Bastounis is working on a new book.
In Patras, the strange man from Nafplio (a journalist?) corners them and accuses Bastounis of working on a final book. The writer dismisses his driver as a traitor and goes on to Delphi alone, but he's left clues in the travel journal and is faithfully pursued. Reconciled, they share a moonlit experience at ancient Delphi and drive on to Thermopylae, where Bastounis supplicates the Furies. They meet the journalist for a showdown in Lamia and Bastounis assaults him, making them briefly fugitives. Ever sicker, Bastounis is now totally blind.
In Thessaloniki, they attend a hashish den before moving on to the monastic republic of Mount Athos, where Bastounis has a secret brother. Here, he will die. The young man contemplates his own future and, on the writer's death, discovers that the whole trip has been 'written' by Bastounis into his own youthful experience. He is the final book. Now he must start living for real.