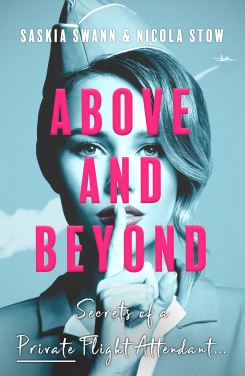 When Saskia Swann was offered a £55,000 -a -year job as a private flight attendant in 2003, she thought she'd landed on her feet. After running up a £30,000 debt living a "champagne lifestyle on Cava wages" working as a commercial air hostess, jetting around the world in "flying palaces" owned by billionaires was her ticket to freedom. Selected to work on board a married Russian oligarch's Airbus, she was propelled into the glittering, theatrical and seemingly lawless world of corporate flying - a world where in-flight meals consist of seven-courses served on fine bone china, the stewardesses wear Prada, bodyguards carry loaded guns, passengers are often exempt from airport security scans and mile-high shenanigans take place inside luxury bedrooms.
With perks including free designer clothes and luggage from the world's leading fashion houses, stopovers at glitzy locations, exclusive parties and complimentary Dom Perignon, Saskia was seduced from day one. But six months later her dream job turned sour when she discovered her boss demanded far more from his hostesses than silver service with a smile. He also expected them to serve as his private escorts - or be sacked. Still in debt and fearful of losing her cherished job, Saskia became one of the billionaire's many secret lovers. He lavished extravagant gifts upon her - jewellery from Cartier and Bulgari, envelopes filled with cash - and their trysts took place in £15,000 -a-night hotel suites.
Their affair finally ended two-and-a-half years later when Saskia fell pregnant with the oligarch's child and subsequently suffered a miscarriage. As a result of that traumatic experience, Saskia, against her boss' wishes, resigned. But her career as a private flight attendant was far from over.
After a short break Saskia took to the skies again, this time working on a freelance basis for some of the world's wealthiest men, including an adulterous Saudi prince, an eccentric Texan oil baron with a grand piano onboard his jet, and an animal-loving property tycoon whose Siamese cat is most at home sitting on the pilot's lap. And of course there are the famous passengers: Hollywood A-Listers with their crazy dietary requirements; a billionaire rock star who offers the pilot a crumpled ten pound note and says: "Treat the crew to a few drinks", and celebrities caught snorting cocaine on board...Saskia has seen it all.
Her jet-setting lifestyle also led Saskia to many love affairs around the world: she risked her liberty in Saudi Arabia by having sex with a French pilot in her hotel room; in Geneva she made the most of being grounded during the 2010 volcanic ash crisis - by indulging in a ten -day affair with an American businessman, and in Cannes she enjoyed a night of passion with a famous British actor.
Featuring a cast of colourful, quirky characters, Above and Beyond: Secrets of a Private Flight Attendant offers an unprecedented account of what it's really like to be a corporate flight attendant, exposing both the glamour and sinister underbelly of this mysterious industry.