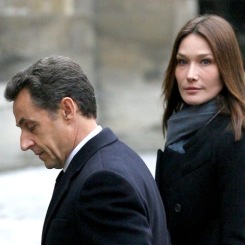 Sarko and Carla: The Fall is the inside story of how the gilded life of President Nicolas Sarkozy and First Lady Carla Bruni – the most famous power couple in France – descended into allegations of sleaze and criminality and the prospect of multiple prison sentences.
When Sarkozy, the pugnacious conservative politician backed by his country's multi-billionaire business class, came to power he had styled himself as a Gallic JFK.
His Jackie Kennedy was Bruni – the former supermodel turned pop singer and then Sarkozy's third wife.
Together, two titans of the political and showbiz worlds projected an image of impossibly glamorous excess as they embraced the values of American razmataz over the traditionally stuffy grandeur of the Paris establishment.
The fantasy came crashing down within days of Sarkozy losing his presidential immunity from prosecution, however.
The couple's home was raided by the fraud squad after just one-term in office, and then years of forensic investigation saw Sarkozy become the first president in the history of France to be tried for crimes committed while in office.
Grave allegations ranged from accepting millions in dirty money from Libyan dictator Muammar Gaddafi – a despot Sarkozy helped murder during the Arab Spring of 2011 – to judge nobbling.
Drawing on previously unseen evidence related to multiple indictments against Sarkozy, and unpublished interviews with key witnesses, Paris-based journalists Peter Allen and Nabila Ramdani reveal details of the lavish luxury Sarkozy enjoyed with Bruni, and how he used all the tools of the French state to cover up personal gain, and to deal with perceived enemies.
Research extends from Paris and London to the Middle East and North Africa, where Nabila Ramdani has interviewed former Sarkozy allies including Gaddafi and his son and heir, Saif Al-Islam, as well as contacts of Ziad Takieddine, the international arms dealer said to have received €350million in secret commissions from the Sarkozy entourage.
Written as a human drama rather than as a conventional political biography, Sarko and Carla: The Fall will appeal to everybody who is enthralled by the nature of power in the celebrity age.