GCHQ
GCHQ is the successor to the famous Bletchley Park wartime code-breaking organisation and is the largest and most secretive intelligence organisation in the country. During the war, it commanded more staff than MI5 and MI6 combined and has produced a number of intelligence triumphs, as well as some notable failures. Since the end of the Cold War, it has played a pivotal role in shaping Britain′s secret state. Still, we know almost nothing about it.
In this ground-breaking new book, Richard Aldrich traces GCHQ′s evolution from a wartime code-breaking operation based in the Bedfordshire countryside, staffed by eccentric crossword puzzlers, to one of the world′s leading espionage organisations. It is packed full of dramatic spy stories that shed fresh light on Britain′s role in the Cold War -- from the secret tunnels dug beneath Vienna and Berlin to tap Soviet phone lines, and daring submarine missions to gather intelligence from the Soviet fleet, to the notorious case of Geoffrey Pine, one of the most damaging moles ever recruited by the Soviets inside British intelligence. The book reveals for the first time how GCHQ operators based in Cheltenham affected the outcome of military confrontations in far-flung locations such as Indonesia and Malaya, and exposes the shocking case of three GCHQ workers who were killed in an infamous shootout with terrorists while working undercover in Turkey.
Today′s GCHQ struggles with some of the most difficult issues of our time. A leading force of the state′s security efforts against militant terrorist organisations like Al-Qaeda, they are also involved in fundamental issues that will mould the future of British society. Compelling and revelatory, Aldrich′s book is the crucial missing link in Britain′s intelligence history.
Book Author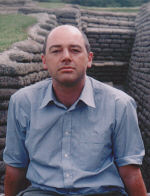 Richard J. Aldrich was born in 1961 and was educated at the universities of Manchester, Aberdeen and Cambridge. He has held a Fulbright fellowship at Georgetown University in Washington DC and is currently visiting Canberra and Ottawa as a Leverhulme fellow. He teaches international security at the University of Warwick and is Director of the Institute of Advanced Study. He is the author of several books including The Hidden Hand: Britain American and Cold War Secret Intelligence which won the Donner Book prize in 2002 and was shortlisted for the Westminster Medal. More recently he has auth...
more about Richard J. Aldrich...
Book Reviews
Literary Review
"In this superlative history, Aldrich packs in vast amounts of information, while managing to remain very readable. He paints the broad picture, but also introduces fascinating detail."
Max Hastings, Sunday Times
"Richard J Aldrich is an outstanding analyst and historian of intelligence, and he tells this story well... This is an important book, which will make readers think uncomfortably not only about the state's power to monitor our lives, but also about the appalling vulnerability of every society in thrall to communications technology, as we are."
The Register
" As the historian Richard J Aldrich notes in the introduction to his excellent new history of the Cheltenham-based agency it represents by far our largest, most expensive, most productive - and yet most secret - intelligence effort. GCHQ: The uncensored story of Britain's most secret intelligence agency instantly ranks as the most essential exposition of the hidden power wielded for 70 years by Britain's information superweapon ... Aldrich packs much of his book with ripping operational tales from the Cold War period, sharply written with due attention to the real people involved, as well as the politics."
The Guardian
"In the opening sentence of his important though curiously subtitled book, the historian Richard Aldrich writes: "'GCHQ' is the last great British secret." … GCHQ (Gloucestershire's biggest employer) remains extremely secretive compared even to MI5 and MI6, though it accounts for the bulk of the £2.4bn officially spent each year by Britain's three intelligence agencies. Aldrich shows how GCHQ developed into a global intelligence-gathering agency of truly industrial proportions …. "The frightening truth", Aldrich concludes, is that "no one is in control"."
Duncan Campbell, New Statesman
" Richard Aldrich, an accomplished cold war intelligence historian, has taken a decade to produce the first substantial account of what is known about the agency, and what can be gleaned from the recently released official archive ... "
Birmingham Post
"…a fascinating, accessible read…"
The Economist
"Mr Aldrich skilfully weaves together the personal, political, military and technological dimensions of electronic espionage."
Sunday Telegraph
"Richard Aldrich's thoroughly engaging account."
Spectator
" This is a sober and valuable work of scholarship, which is as reliable as anything ever is in the twilight world of intelligence-gathering. Yet there is nothing dry about it. Aldrich knows how to write for a wider audience, while avoiding the speculations, inventions, sensationalism and sheer silliness of so much modern work on the subject."
The Yorkshire Ranter blogger
" I think it's undeniable that this is the best factual account of British signals intelligence you're likely to get. It practically bursts with detail and is clearly the fruit of an enormous effort of primary research, and a fair bit of the secondary kind too."
International Affairs
" …this fine book …a comprehensive and empirically rich account of the most secret of British secret agencies…a unique and valuable contribution to knowledge in this area…GCHQ's strength is that it is a comprehensive mine of information for intelligence studies scholars and students alike, as well as, for the most part, a genuinely compelling page-turner….Aldrich's timely and important book... an invaluable read for all who are interested in the study of intelligence, surveillance and security."
The Week's "Book of the Week"
"Aldrich has taken a decade to produce the first substantial account of the agency's history, and this superlative book packs in vast amounts of information, yet remains wonderfully readable. He has dug up a massive amount of fascinating detail. "
William Roger Louis, English Historical Review
"Richard Aldrich is the foremost historian of the British intelligence agency GCHQ ."
Daily Telegraph
"...magisterial and engrossing."