Shaun Baines Biography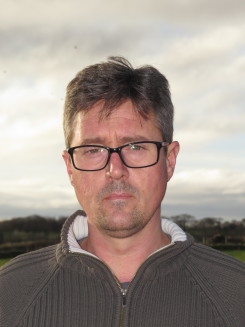 After leaving Liverpool John Moores University with an English Literature degree in 1997, Shaun returned to his home in South Tyneside asking one question – what now? It was a question that wouldn't be answered for another twenty years.
In the meantime, he did what he thought all adults did. He put on a shirt and tie, and went to work in an office. His first job was at the Child Benefit Centre where he sorted mail for three years, though it felt a lot longer. Eager for a new challenge, he moved to another company and another office where the only thing that really changed was his choice of tie.
It was around this time that Shaun's love of reading graduated into a love of writing. He wrote short stories, magazine articles, screenplays and a novel that never made it past Chapter One.
In 2010, at the height of the recession, Shaun decided it was time to start a business, turning his passion for gardening into green gold. He continued for five years, taking on staff and mowing every lawn in South Tyneside. While he was too exhausted to write, he developed an interest in crime thrillers, devouring a book every two or three days.
Things were looking good. By 2015, he was married, running a successful business and growing his own carrots. And yet he was dogged by the idea there was something else out there; some discovery that could finally bring the mismatched pieces of his life together. He set about exploring what that might be.
A year later he was unemployed, living in a damp cottage in Scotland and still asking the same question – what now? His novel Woodcutter was the answer, the bloody tale of a man on the run from his criminal family.
Finally content and writing furiously, Shaun lives a rural life with his beautiful wife, less beautiful dog and a handful of goofy chickens.
How I Found the Agency
Finding an agent you can trust with your precious writing is not an easy task. I scoured the Writers' and Artists' Yearbook and discovered there was a dizzying array to choose from. It was important I had the right people on my side and began my research, visiting websites and reading authors' comments.
I was delighted to find the Andrew Lownie Literary Agency was an established company expanding its fiction list. Sending off my opening chapters and synopsis, I settled in for the long wait, but David Haviland responded almost immediately requesting the full manuscript. Within a week, I was signed, feeling confident I had handed over my novel to an agency that would take good care of it.