Simon Thould Biography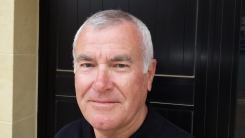 Simon L. Thould was born in Somerset, where he went to public school and played rugby and cricket with more enthusiasm than he studied. He later managed to qualify as a chartered surveyor and practised for twenty years in both public and private sectors in London and the south of England. He also worked as a restaurant and bar manager before moving with two black cats to a farmhouse in the mountains Andalucia for a year and a half. There he wrote his first novel.
He moved back to the UK and worked as a resident housekeeper and groom in Kent and wrote his second novel.
Then he relocated to the USA for several years and worked in warehouse stock control, sold insurance and then art work from a gallery in Downtown Charleston, South Carolina. Returning to the UK again, he worked as a postman and in several retail sales positions and wrote a third novel.
His passions, other than writing, are reading 'hard-boiled, noir' novels, watching classic movies and betting on National Hunt horse racing. He has been married and divorced twice and has one daughter.
He currently lives on the island of Gozo in the Mediterranean where he wrote Dark Water.
How I Found the Agency
I had collected a number of rejection letters from publishers and agents, before I sent my submission to the Andrew Lownie Agency as their listing in the Writers' and Artists' Yearbook stated that they were interested in the type of stories that I write. I am fortunate that David Haviland in the agency believes enough in Dark Water to take me on as a client.