William Macbeth Biography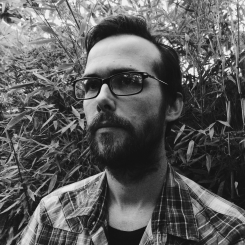 It was when he was eight years old that William Macbeth decided he wanted to be a writer. At the same time, he also decided that he wanted to be a professional football player and a pop star, and he imagined his future self dividing his days between the three occupations. He wrote a story about a murder at Mount Vesuvius. The killer was found hiding out in the ruins of Pompeii. The story received rave reviews from his parents, who described it as 'revelatory' and 'ingenious', and declared the writer to be a 'brave new voice in British fiction', which is still just as true today as it was all those, almost thirty, years ago.
After this initial success, William Macbeth allowed his genius to lie fallow. He wrote a few stories at school, one of which was about a boy called Albert who fell off a cliff, but produced nothing that could rival the success of his story about the murder at Mount Vesuvius, and William Macbeth decided to give up any thought of writing seriously until he was at least thirty. Only then, he thought, could he write with any experience of the world.
At thirty, he had some experience of the world, and after a period of reading nothing but medieval history books for about a year, started writing what he called a 'fictional history' called Ether, about a fictional tribe of people who are forced from their fictional home and sail across a fictional sea to find a new fictional home. He was well into it, having written over a hundred thousand words, when he realised that he didn't know how the story was going to end, and that there was a good chance the story would never end. Suddenly, there didn't seem any point continuing; he abandoned Ether and never looked at it again.
William Macbeth waited for inspiration. He was ready to write now. Luckily, experience came to his aid. He had an experience that inspired The Warehouse Industry. The experience that inspired The Warehouse Industry was drifting downriver at dawn in a barge after a drunken night in Abingdon, which is a town somewhere.
He has since written two other novels. Lee Cross is an everyday tragedy inspired by the old English folk ballad, Matty Groves, while The Last Man on the Moon is Waiting for Godot in space, but with only one person waiting for Godot – in space. He has also written a trilogy of short stories, called The John Trilogy that centre around three mysterious and vaguely threatening characters called John. For his next novel he wants to move away from the idea that novels have to be about anything at all.
William Macbeth has never been published anywhere, in any way, before. He has, however, read some of his stories to the twelve and thirteen year olds that he teaches, and they thought they were really good.
William Macbeth has been likened to Kurt Vonnegut and Samuel Beckett (by his friends), and is influenced by the work of Richard Brautigan and Muriel Spark, who wrote short funny novels, which is exactly what William Macbeth sets out to do.
How I Found the Agency
I wish I could say that I found the agency after hours, if not days, of painstaking research, and carefully targeted enquiries. But I can't. That would be a massive lie. I found the agency after searching the words 'literary agent' on the well-known internet search engine that everyone uses. The Andrew Lownie Literary Agency was on the first page of search results. Click. 'That looks good,' I thought. Click. 'Oh yeah, I like this.' Click. Click. Click.
It was a sunny Sunday afternoon in April, and it was the first time I had submitted any of my writing to anyone or anything. I was nervous but excited. I didn't expect a response, but I also expected an almost instantaneous response; I didn't expect anything to come of it, but I also expected great things to come of it.
David got back to me within the week, which was nice of him, and more than I could ever have expected, and exactly what I expected. He asked to see the full MS. I felt a sudden surge of joy and panic. 'Maybe he won't like the full MS,' I thought. I sent it anyway.
The rest is the past. But the future hasn't happened yet. Thanks David.