Tales of Two Cities: Paris and London, 1750-1914
Paris and London have long held a mutual fascination, and never more so than in the eighteenth and nineteenth centuries, when they both vied to be the world's greatest city. Each city has been the focus of many books, yet here Jonathan Conlin uncovers the intriguing relationship between them for the first time. It is a history of surprises: Sherlock Holmes was actually French, the can-can was English and the first restaurant served English food in Paris.
Tales of Two Cities examines and compares six urban spaces - the street, the cemetery, the apartment, the restaurant, the music hall and the nocturnal underworld. The citizens of Paris and London were the first to create these landmarks of the modern cityscape. By borrowing, imitating and learning from each other they invented the modern metropolis and so defined urban living for us all.
Book Author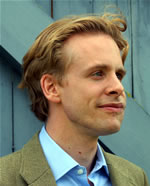 Jonathan Conlin was born in New York and later moved to Britain, where he studied history at Oxford. He went on to do graduate work at the Courtauld Institute and Cambridge, becoming a Fellow of Sidney Sussex College in 2002. During this period he spent long periods in Parisian archives, developing an interest in the history of Anglo-French relations. Since his appointment to the University of Southampton in 2006 he has taught courses on a unusually wide range of topics, from the moral philosophy of Adam Smith through the history of cemeteries to the impact of evolution on Victorian...
more about Jonathan Conlin...
Book Reviews
Amanda Foreman
"Jonathan Conlin's wonderful new book is a fascinating walk through two of the greatest cities in the world. With admirable skill and a painter's eye, Conlin presents the reader with a richly woven tapestry of stories and events that is mesmerising to behold. The reader will never think of London or Paris in the same way again."
Catharine Arnold
"An intriguing book, this is a tale of two cities, Paris and London, caught between two worlds, the ancient and the modern, the dead and the living. Conlin provides some striking insights into these two capitals which are, in effect, mirror-images of one another. A thought-provoking glimpse into the history of our own London and its elegant, racy cousin, Paris. Beautifully illustrated and well-written."