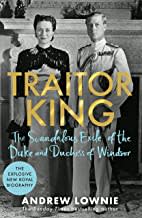 Traitor King, looks at the years following the abdication of Edward Vlll when the former king was kept in exile, feuding with his family over status for his wife, Wallis Simpson, and denied any real job.
Drawing on extensive research into hitherto unused archives and Freedom of Information requests, it makes the case that the Duke and Duchess of Windsor were not the naïve dupes of the Germans but actively intrigued against Britain in both war and peace.
It reveals:
- the story behind the German attempts to recruit him as a British Petain in the summer of 1940.
- the attempts, by Churchill in particular, to prevent post-war publication of the captured German documents which detailed the Duke's Nazi intrigues.
- the reasons why the Duke, as Governor of the Bahamas, tried to shut down the investigation into the 1943 murder of his close friend Harry Oakes.
- the full extent of the feud with the British Royal Family, based on his betrayals going back to his dishonesty about his true financial position at the time of the Abdication.
- that far from a love story, Wallis felt trapped in a marriage she had never wanted with a pathetic and suffocating husband, one of the reasons she took several lovers, including the gay playboy Jimmy Donahue.
With uncanny modern parallels Traitor King tells the story of a royal exiled with his wife, turning his back on duty, his family and using his position for financial gain.