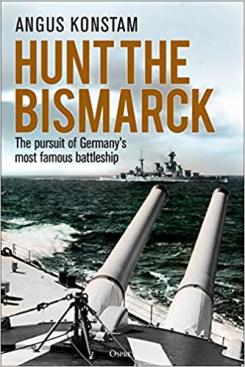 When the Bismarck, Nazi Germany's new battleship entered service in mid-1940, the German press dubbed her "unsinkable". This claim was put to the test in May 1941, when she sailed on her first operation - a breakout into the Atlantic to prey on Allied convoys. Off Iceland she and an accompanying cruiser met the British capital ships Hood and Prince of Wales. In the brief, devastating battle that followed Hood was ripped apart by Bismarck's shells, and 1,300 men died. Badly damaged, Prince of Wales limped away, leaving Bismarck free to roam the Atlantic.
Bismarck didn't emerge unscathed though. A fuel tank was damaged, and her commander decided to head to occupied-France for repairs. Meanwhile the British Home Fleet had put to sea in a bid to intercept her. What followed was one of the most dramatic naval operations of the war. Bismarck was almost within range of Luftwaffe air cover when she was spotted by a reconnaissance aircraft. Even then it looked like she might escape - the British had one throw of the dice left - a dusk air attack, launched from the carrier Ark Royal. Amazingly, one of the torpedoes struck the Bismarck's rudder, and she was crippled. That allowed the British to overhaul her, and at dawn the next day she was cornered and sunk by the Home Fleet. Over 2,000 German sailors went down with their ship. Germany's challenge to Britain's control of the seas was over, but the human cost had been high.
While this story has been told many times, the sheer drama of these great events make it one of the most naval tales of all time. Maritime historian Angus Konstam is no stranger to the subject, but this fresh telling is aimed at a new audience, and is told in a way that is designed to capture the tension and emotion of those dramatic hours more than three-quarters of a century ago, when Britain was fighting for her life, and Bismarck represented a deadly threat to her vital maritime lifeline.