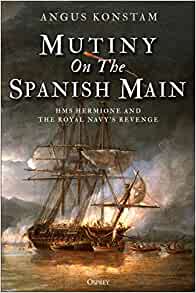 Mutiny on the Spanish Main tells the dramatic story of HMS Hermione, a British frigate whose crew mutinied in 1797, in what was regarded as the most bloody revolt in British naval history.
The ship's tyrannical captain goaded his men to breaking point, and on a dark night off Jamaica the crew rose against him. The captain and his officers were hacked to death and thrown overboard, then the mutineers set sail for the Spanish Main. There, in what is now Venezuela, they handed the ship over to Britain's Spanish enemies. Hermione duly became the Spanish frigate Santa Cecilia.
The British scoured the Caribbean for the mutineers, and managed to capture, try and execute many of them. However the ringleaders still served on board their old ship, under Spanish colours. This proved too much for the British, who despatched Captain Hamilton and the frigate HMS Surprise to track down the Spanish frigate. In October 1799 Hamilton found her in Puerto Cabello, on the Spanish Main, anchored beneath the guns of two Spanish forts. This didn't deter Captain Hamilton. In a daring night-time raid he and his men entered the harbour in four longboats. They overpowered the Santa Cecilia's crew, then took her out to sea, despite punishing fire from the Spanish forts.
The "cutting out" of the Santa Cecilia was a brilliant success, and Hamilton and his men became national heroes. The recaptured mutineers were less fortunate. They were tried and executed, while the Santa Cecilia rejoined the British fleet, not as the Hermione, but as the aptly-named Retaliation.
Angus Konstam draws on letters, logbooks and reports of the period from both British and Spanish sources to weave together the story of the ship and her crew, the blood-soaked mutiny, and her spectacular "cutting out". The aim is to open a window into the world of Nelson's sailing navy, combining meticulous research with a fast-paced narrative worthy of such an extraordinary tale.