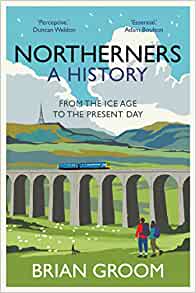 Northerners fills a gap in the market for a book on the history that has shaped the north of England. It could hardly be more topical, given tensions over Brexit, the "red wall" and forces threatening to drive the country apart. This book lays out the dramatic events that have played out in the north – waves of migration, invasions and battles, its impact on European culture and the global economy, its struggles to assert its identity as modern Britain emerged. It explores what northernness means in the 21st century and the crucial role the north can play in Britain's future. The story is told through the people, famous or not, who have built the region.
This book provides a sweeping and vivid narrative, starting from the earliest times, coupled with cross-cutting chapters on fascinating social and cultural themes. Everyone knows about the north's leading role in the Industrial Revolution, viewed by many economic historians as the key event in human history, but there is far more to it. At least six Roman emperors ruled from York. The Anglo-Saxon kingdom of Northumbria was Europe's leading cultural and intellectual centre. The past has shaped the present in myriad ways. The devastation of factory and pit closures in the 1980s, for example, echoed the trauma of William the Conqueror's Harrying of the North. Civil war divisions in the 17th century were repeated in the 2016 Brexit referendum.
Northerners tells the story of characters such as Cartimandua, queen of the Brigantes, who deserves to be as famous as Boudica or Cleopatra; St Oswald, Bede and Richard III; Richard Arkwright and the Stephensons; Wordsworth, the Brontes and Gaskell; Emmeline Pankhurst and Gracie Fields. It explores topics as diverse as the importance of sheep, the north-south language divide, why the Industrial Revolution happened in the north, ethnic diversity, the legacy of slavery and the contribution of northern writers, artists and comedians. The north has been entirely shaped by waves of migration, which continue today. It explores factors that divide northerners as well as those that unite them, such as rivalries between Lancashire and Yorkshire, Newcastle and Sunderland, Tyneside and West Yorkshire, Liverpool and Manchester. And it charts how the north-south divide emerged and has ebbed and flowed.
The book is aimed at anyone interested in British history, society and culture. It defines northerners liberally: anyone born in the north or who has spent time there and feels an affinity. It explores the factors that have created the north's modern identities and how these fit into the story of England, the UK and the world.