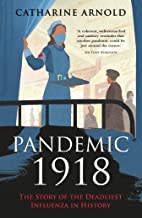 In the dying months of WW1, Spanish flu overwhelmed the world, killing 50 million people. Germans soldiers termed it Blitzkatarrh, British soldiers called it Flanders Grippe, but globally the pandemic gained the notorious title of 'Spanish Flu.' The name itself is misleading; Spain, as a neutral county in WWI, was not subject to military censorship, and so the flu epidemic was reported there, and discussed in the leading medical journals of the day. In Britain and the United States, the very existence of 'Spanish flu' was concealed in order to protect morale.
But nowhere escaped this common enemy: the United States recorded 750,000 deaths, five times its total military fatalities in the war, while European deaths totalled over two million. In England and Wales, 250,000 people died in horrific conditions: onset was sudden and indicated by horrific symptoms including haemorrhages from the lungs and nose, the skin turning blue from lack of oxygen and choking to death from 'air hunger' as the lungs filled with blood and pus. Another weird symptom was that patients' hair often turned white overnight. Those who never regained consciousness were the lucky ones; others died raving, lack of oxygen to the brain causing a form of dementia.
One of the most terrifying aspects of Spanish flu was the age of its casualties. The majority of the victims were healthy young men and women in the prime of life. The virus was particularly deadly because it triggered a cytokine storm, an auto-immune reaction which ravages the stronger immune system of young adults.
Against the background of the global epidemic, we meet the men and women who battled against this invisible enemy, from medical experts such as US Surgeon General Vaughan, pathologist William Henry Welch, Manchester's Chief Medical Officer of Health Dr James Niven, and bacteriologist August von Wassermann, inventor of the famous 'Wassermann test' for syphilis, who was so determined to find a way to stop the epidemic in its tracks that he declared: 'For me there are no Germans, no Englishmen – only men who suffer and must be helped.'
Those caught up in the epidemic including British Prime Minister David Lloyd George, US President Woodrow Wilson, and writers Robert Graves, Vera Brittain and Katherine Anne Porter. Alongside these richly distinctive characters appear brief glimpses of other lives: the army nurse who recalled the appalling stench of the sick and the dying: 'I never smelt anything like it before or since. It was awful, because there was poison in this virus.' The young bride who was buried in the same church that she had been married in, just a week earlier. The little boy who recalled 'playing' on the pinewood coffins piled up outside the undertakers' store as the children all chanted the same rhyme:
I had a bird
Its name was Enza
I opened the window
And in flew Enza