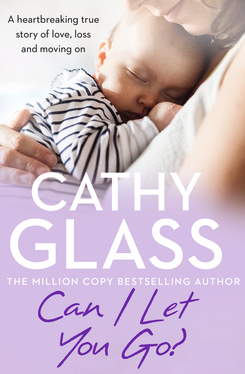 Can I Let You Go? is the true story of Faye, a wonderful young woman who may never be able to parent her unborn child. It is Cathy Glass's 23rd book and 16th fostering memoir.
It's the end of a long day; the day of Cathy's father's funeral. Cathy and her children say a difficult goodbye to her mother, leaving her alone for the first time since his passing. Cathy has taken compassionate leave from fostering but already there is a voicemail message from a social worker about a young woman, Faye, who needs a home.
Faye is 24, pregnant, and has learning difficulties (Foetal Alcohol Syndrome) as a result of her mother's alcoholism. Faye is gentle, childlike and vulnerable, and normally lives with her grandparents, both of whom have mobility problems. Allowing the reader an insight into fostering adults, Cathy and her children welcome Faye into their home and hearts. The care plan is for Faye to stay with Cathy until after the birth when she will return home and the baby will go for adoption. Given that Faye never goes out alone it is something of a mystery how she ever became pregnant and Faye says it's a secret.
Faye loves horses and Cathy regularly takes her to see horses in a field which Faye names and pets. To begin with Faye won't acknowledge she is pregnant or talk about the changes in her body as she worries it will upset her grandparents, but after her social worker assures her she can talk to Cathy she opens up. However, this leads to Faye realizing just how much she will lose and she changes her mind and says she wants to keep her baby.
Is it possible Faye could learn enough to parent her child? Cathy believes it is, and Faye's social worker is obliged to give Faye the chance. With patience Cathy sets about teaching Faye how to look after a baby and the outcome starts to look increasingly positive. Even Faye's grandparents who were very sceptical to begin with say they will do what they can to support Faye if she is allowed to keep her baby.
Cathy is present at the birth of Edward, but apart from holding him once Faye has nothing to do with him. The hospital alerts the social worker who begins plans to bring Edward into care. Cathy rushes to the hospital to try and find out what's troubling Faye. In a highly emotional scene Faye tells Cathy she loves her baby and wants what's best for him. She knows she isn't clever enough to parent him and wants him to be adopted by parents who will be able to teach him lots of things so he is clever like Cathy's children.
Cathy is with Faye and the social worker at the hospital when Faye gives her baby to the foster carer and it is heart-breaking. Faye returns home to her grandparents and when Cathy visits her just before Christmas she is content and is coping well. In a sudden twist the father of Faye's baby is revealed and no one is more shocked and surprised than her grandparents. Edward is adopted by a childless couple who never thought they'd have children and Cathy surmises that Faye's story therefore does have a happy ending after all.