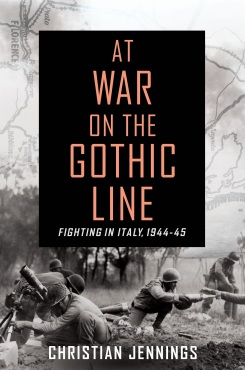 Across the mountains and plains of northern Italy, from autumn 1944 to the end of the Second World War in May 1945, more than 200,000 American, British, Canadian and Indian troops spearheaded a vast multinational Allied army. They were fighting the battle of the Gothic Line, a huge, critical and undersung conflict that was to last for ten months and decide the fate of post-war southern Europe. It can rightly be called the first battle of the Cold War. General Mark Clark, commanding the Americans in Italy, said at the time that it was "a campaign that might have changed the whole history of relations between the Western world and the Soviet Union."
Seventy years later, as these very relations fragment over Russia and the Ukraine, the Cold War is as important as ever. Churchill, Roosevelt and Stalin – dubbed the 'Arguing Allies' – all had different plans in 1945 for post-war southern Europe. These depended on the outcome of the battle for the vast barrier of heavily-defended German positions, codenamed 'The Gothic Line,' which stretched from the Adriatic coast to the Mediterranean. By breaking through these defenses, the Allies could forge north into the Reich in Austria and Bavaria, and eastwards into Yugoslavia and Hungary, and also keep these territories out of the hands of the advancing Red Army. Churchill said the key battle would decide the post-war fate of southern Europe and thus control of the Mediterranean.
Up against the German SS, paratroopers and army soldiers were thrown a huge selection of Allied troops from fifteen different nations. This is the story of that crucial battle told through the exploits of thirteen men and women of seven different nationalities – Americans, Italians, British, German, Canadian, Indian and Polish.
A young Japanese-American 'Nisei' lieutenant from Hawaii wins the Congressional Medal of Honour storming German machine-gun positions, while an African American company clerk and troop commander from the racially-segregated 92nd U.S Division, 'the Buffalo Soldiers,' battle the SS. A British SOE officer parachutes way behind German lines, while a teenage Italian female partisan helps blow a railway bridge. Outside Florence, an Indian light infantry officer and his men from Bombay rescue Renaissance art works. A 17 year-old German paratrooper digs in to defend a church outside Rimini against determined Canadian attack, while across Tuscany a Waffen-SS unit commanded by a one-armed Major commits some of the largest war-crimes in Europe of the whole war. Some of their perpetrators have escaped justice to this day.
The book is written by an experienced war correspondent and investigative journalist living in Italy, who has reported extensively from war zones across the Balkans and Africa. It is an under-reported story of the personal, multinational reality of the war in Italy, of its population and its partisans. It tells how one crucial battle helped shape post-war southern Europe.