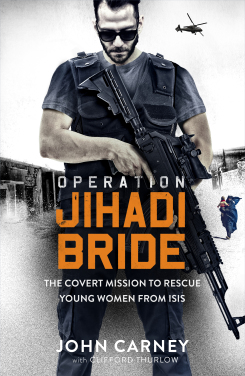 If your teenage daughter runs off to marry a jihadi warrior and you want to bring her home, there's only one man to call.
John Carney.
That's message that raced through Muslim communities across Europe when he planned the escape of Laura Hansen and her two children from Mosul. The 21-year-old Dutch woman was the first jihadi bride rescued from ISIS.
While Islamic State was at its most brutal in Iraq and Syria, Carney led teams of Kurdish, American and British guns for hire on missions behind enemy lines to save the lives of more than 100 women.
As American-backed Iraqi forces stormed Raqqa and Mosul, he shared crucial intelligence on tunnels and arms caches from his network of spies cultivated inside EMNI, Islamic State's secret service.
His team of Kurd ex-soldiers followed the action through savage street battles and scooped up jihadi brides as they threw off their black niqabs and fled to safety. It would pose a complex dilemma in Europe: discovering who among the young women remained loyal jihadis, and who were naïve girls who just wanted to come home.
From scores of debriefings, Carney brings astute analysis on how young Muslims in the UK and Europe are indoctrinated. He describes how jihadi 'sleepers' smuggle themselves into Europe disguised as asylum seekers and form new cells with the connivance of fundamentalist Imams.
Carney shows how the British government has been chaotic in implementing the Prevent de-radicalisation programme – the tube bomb by an 18-year-old Iraqi at Parson's Green is a prime example – and has failed to grasp that the defeat of Islamic State in Iraq and Syria is not the end of the battle. It is the beginning.
He provides evidence that the so-called Caliphate will be resurrected in Africa, provoking a new surge of migrants greater than Europe has ever seen. Terror attacks in European cities will be more sophisticated and will increase in number. He will show that the UK is the centre for the dissemination of radical teaching and that Saudi Arabia, where extremist doctrines are born, openly supports and arms jihad.
Justice Secretary David Gauke told the Evening Standard (13 March 2018) that returning jihadis will be held in two new specialist segregation units. Gauke also announced that children being brainwashed by parents will be seized by the courts. These measures will not make Britain safer. They will add fuel to the terrorist fire.
Through eighteen months of operations, Carney lost comrades to gunmen and land mines. His team included ex-mercenaries used to earning $1,000 a day and Kurdd freedom fighters working selflessly without pay in the cause of common human decency.
The Kurdish Peshmerga forces and YPG have been the staunchest allies and bravest proxy fighters for the United States. John Carney reveals secret talks between US officials and the Kurds on the creation of a Kurdish homeland. Since the establishment of the Turkish Republic in 1923, Kurds have been tortured and exiled by the Turks and gassed by Saddam Hussein. With Donald Trump in the White house at odds with Turkey's dictator Recep Tayyip Erdoğan, Kurds see their dream, finally being realised.
After being tasked to bring out one girl from Islamic State in June 2016, at a conference of NGOs, Kurdish and EU officials in Brussels the following year, Carney was commissioned to set up de-radicalisation centres to prepare for the return of two thousand European women and their babies from the refugee camps on the Syrian-Turkish border.
Every day he has to control his outrage as he witnesses lost children in rags vulnerable to being radicalised and girls being prostituted by Turkish guards in exchange for the bags of rice supplied by the UN.
Carney is on both the ISIS Death List and the UK Terrorist Watchlist. Ex-British Army, family man, autodidact, he is a quiet British hero dedicated to sharing intelligence and saving lives in the apocalypse of the Middle East.
Operation Jihadi Bride will describe:
How Carney nurtured informants to establish the first civilian network to infiltrate EMNI, Islamic State's secret service
Audacious missions to rescue jihadi brides and their children from the heart of the Islamic Caliphate
Vivid, first-hand accounts of street battles in Mosul and Raqqa
Sharing essential intelligence globally
The radicalisation of children as young as eight
How ISIS torturers pour gasoline over babies to extract information from parents
Secret locations of ISIS treasure and stolen artefacts
How ISIS will flourish in Afghanistan and Africa with a stronger new Caliphate leading to a flood of refugees to Europe
How Russia is spreading its sphere of influence and seeking to employ private sub-contractors to supply intel on the growth of jihad in Africa
How European governments outsource de-radicalisation programmes
How Turkey uses its NATO affiliations to undermine the independence ambitions of the Kurds with the long term aim of creating a new Ottoman Empire
Glossary of terms, maps and an appendix with recorded conversations between Carney and women waiting to be rescued