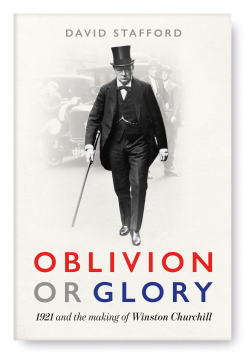 Winston Churchill led Britain to victory in World War Two. Yet only a generation before he'd been dismissed as a bombastic and unpredictable buccaneer. 'The country regards him as a bold, bad man' was one damning verdict in 1920. But within a year another observer took a radically different view of him, as statesman and peacemaker: 'Were I an ambitious young backbencher I would hitch my wagon to [his] star.'
It's impossible for us today to forget what we know of Churchill's later life. But his contemporaries were divided by polar opposite opinions. When 1921 opened no one was sure if he was headed for oblivion or glory. Damned as impetuous and belligerent for his role in the disastrous Dardanelles Expedition of 1915, his violent denunciations of the Bolsheviks and enthusiastic support for the Black and Tans' reprisals against Irish nationalists reinforced this reputation. So what changed in twelve months to revive his fortunes? He had immense vitality and enthusiasm for any task and the intellectual, emotional, and physical stamina to recover from adversity. Biographers and chroniclers have largely failed to integrate his private life and the public domain. Yet landowning cousins in Ireland had their houses burned down by the IRA and his favorite female cousin traipsed off to Moscow to sculpt Lenin and Trotsky.
At the Cairo Conference he creates the new state of Iraq out of the debris of the Ottoman Empire.
He spearheads the truce in Ireland and negotiates personally with the IRA leader Michael Collins to create the Irish Free State.
He decides on the borders of Palestine, visits Zionist settlements, and endorses the concept of a Jewish National Home.
He inherits a fortune and becomes financially independent.
He starts writing his multi-volume book

The World Crisis

, which becomes an instant bestseller.
He suffers the sudden deaths of his American mother and infant daughter, family tragedies that mature and humanize him; also, his brother-in-law commits suicide.
He first spots Chartwell, the country home that becomes his springboard to 10 Downing Street.
He firmly establishes his public reputation as a gifted amateur painter. For the rest of his life his brush and canvas heal him emotionally and physically during times of stress.
He nails his colors to the mast of Anglo-American friendship.
By the end of the year he is seen by some as a Prime Minister in waiting. Yet not everyone is convinced. How real or deep is the transformation? Can he dispel his reputation of being- as yet another critic that year asks- 'a stormy petrel, a lover of the limelight, and a man of impulse rather than of judgment.'? By shining a spotlight on Churchill in his many dimensions, this book will show how in these twelve months he re-made himself to start along the path that will lead him to become Britain's man of the century.
There have been dozens of biographies of Churchill, as well as countless books on various topics and themes of his life (e.g. Churchill as war leader, Churchill and the Jews, Churchill and America, and this author's own two books on Churchill and secret service and Churchill and Roosevelt, to mention but a very few). Most recently there have been books on Churchill as author, Churchill and his finances, and Churchill and Empire, as well as on his wife Clementine and other members of his family.
Yet there has been no book that illuminates his life at any given juncture in all its many dimensions- personal, familial, professional, and political- to give a rounded portrait of the man and his times. For all its many merits, the multi-volume official biography by the late Sir Martin Gilbert presents an essentially political chronicle, while the last major single volume biography, by Roy Jenkins (2001) is very much colored by the author's own long parliamentary career and interests. The recent Hero of the Empire: The Making of Winston Churchill, by Candice Millard (2016) focuses on the single episode of his dramatic capture and escape during the Boer War. But it is inevitably limited in scope: Churchill was only 24, unmarried, and not yet a Member of Parliament.
The year 1921 was pivotal for Churchill, transforming him from the caricatured figure of the bombastic and unpredictable risk taker to statesmanlike Cabinet member and potential prime minister. It was also marked by personal tragedy and Churchill's own growing sense of mortality and need for stability. Against the backdrop of post-war unrest, violence, and terror, the book shines a spotlight on twelve months that changed his personal and political fortunes. While broadly chronological in approach, it is not a chronicle. Instead, it will highlight particular episodes to throw light on larger themes of Churchill's whole life and show how, at this decisive turning point, he laid the crucial foundations for his later triumphs.