David Wardell Biography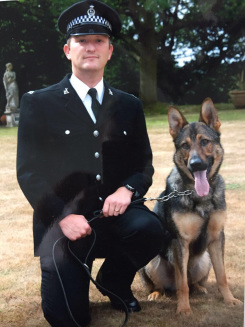 Born and raised on a south London council estate, Dave Wardell has always loved dogs. The family dog, Jess – actually his father's dog, and also a German Shepherd – was a constant companion. As a small boy, Dave could often be found curled up with her at the bottom of the stairs, waiting for his father's return home from work – something that continued long after his untimely death just before Dave's first birthday.
Life was tough for Dave's mum and, along with his older sister, Dave didn't have the happiest of childhoods. And once he was older, dogs provided solace from the privations and squalor of his existence, when he began a dog-walking service for his grateful neighbours, including a further three German Shepherds. He loved them because the didn't judge him, never shouted at him or hit him, and, unlike his mother, who'd by now suffered a nervous breakdown, dogs didn't tell him he was worthless.
Dave's future was set when he was twelve, when he met a Metropolitan Police dog handler and his own German Shepherd at a Police open day; to see the trust between man and animal was a game changer. The road, however, wasn't straightforward. Dave left home young, and he and his mother didn't speak for a number of years, but through travelling, he found acceptance, genuine friendship, and self esteem, and, through that, was eventually able to connect with his mother once again - realizing that the things she'd done had been for reasons beyond her control. Their relationship was good for her remaining years.
Dave joined the police force in 2003, and trained as a dog handler in 2009. Since then, led by Finn, who's been his crime-fighting partner for seven years, he's tracked murderers and rapists, burglars and missing persons, car thieves and assault suspects – even a crucial cigarette butt at a rape scene, providing vital DNA. Dave also trains police dogs in all disciplines, and people's pets.
Finn's near-death and recovery have been a game changer too. Now forty, Dave is both determined to get the law changed, to better respect the UK's courageous service dogs, and to tell Finn's story, so that people can better understand the bond between handler and animal, and see for themselves just how amazing these dog really are.
Dave is married to Gemma, and they have three young daughters; Jaymee, 10, Tia, 7 and India, who's 4. Plus six dogs, one kitten and a parrot.