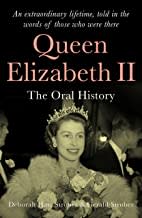 Queen Elizabeth II: The Oral History paints a spirited, global portrait of a life lived in service to Her Majesty's people. It is filled with fascinating eye-winess accounts; from the early years of the Queen's reign-the shocking death of her father and the adjustment required of a newly married couple-through to the children's marriages, the death of Princess Diana, and Prince Harry and Meghan's move to the United States.
This book features more than one hundred substantive interviews from diverse sources: staff, family and friends, such as Lady Pamela Hicks and the Earl of Harewood, and public figures, including Rabbi Julia Neuberger, Michael Heseltine, David Steel and Andy Burnham. Originally published in 2002, it also contains memories from crucial figures now lost to us, including Winston Spencer Churchill, namesake and grandson of the prime minister, Garret Fitzgerald, Lord and Lady Longford, and Nelson Mandela.
This extraordinary oral history offers a revealing view into the workings of Buckingham Palace and the strengths and weakesses of the Royal Family, depicting Her Majesty's historic seventy years as Monarch as well as her leadership of the Commonwealth.
In his updated version, Deborah Hart Strober and Gerald Strober,the co- authors of eight other critically acclaimed oral biographies and histories, provide new insight into both the world's most famous royal personality.and her likely successors.