Douglas Thompson Biography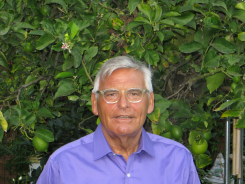 Douglas Thompson is the author of more than twenty books. A biographer, broadcaster and international journalist, he is a regular contributor to major newspapers and magazines worldwide. His books, published in a dozen languages, include the television-based anthology Hollywood People, and best-selling biographies of Madonna, Clint Eastwood, Michelle Pfeiffer, Dudley Moore, John Travolta, Nicolas Cage and Leonardo DiCaprio. He collaborated with the billion dollar dancer Michael Flatley on his Top Ten story 'Lord of the Dance'. His books have been serialised in newspapers and magazines throughout the world. He has worked with several Hollywood stars on their memoirs.
He is a director of one of Britain's popular literary festivals, and commutes between a medieval Suffolk village and Hollywood, where he was based full time as a Fleet Street correspondent and columnist for twenty-two years. In Hollywood, Douglas Thompson has interviewed almost every notable actor, producer and director and writer working in the past forty-five years, from veteran Billy Wilder to the emerging Steven Spielberg with his 'Jaws'. From Henry Fonda to Jane and Peter Fonda, John Huston to Angelica and Danny Huston, Kirk Douglas to Michael and Eric Douglas, Frank Sinatra to Nancy Sinatra and Frank Junior, from Olivia de Havilland, Mae West and Bette Davis to Bette Midler, Sharon Stone and Meryl Streep.
He interviewed Judith Campbell Exner extensively for the UK newspaper serialisation of her life and affair with JFK and Godfather Sam Giancana detailed in her book 'My Story' (1977). She told him: 'To me he was Jack Kennedy not the President.' Loyally, Judith Exner never previously sought publicity. It was only after a US Senate Committee investigating CIA-Mafia connections summoned her to testify and Press reports revealed her connections to JFK and to Sam Giancana.
Douglas Thompson's 'The Dark Heart of Hollywood' [ Random House, 2012] which details the history of the influence of organised crime on the film capital is at present being developed as a multi-season television series.