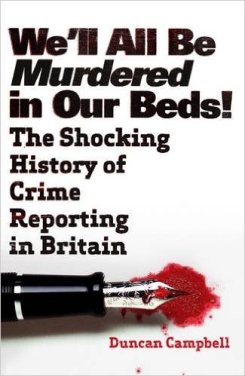 We'll All Be Murdered In Our Beds, is a popular history of the world of crime reporting and its daring, dodgy and sometimes heroic proponents. Crime reporting has always been a staple of the news, even before the growth of the mass market press. The slogan 'if it bleeds, it leads' still holds true. But how did it come to have such a grip on our imagination?
Crime reporters have been accused both of glamourising crime and of increasing the fear of it. Are either claims true? The aim of the book is to explore how crime reporting started, from its earliest practitioners who catalogued the lives and crimes of condemned men, to the 'murder pack' of the 1930s and the 'sultans of the newsroom' of the 1950s up to the present day and the arrests of more than 60 reporters in connection with phone hacking and bribing police officers.
An early 'celebrity criminal' Dick Turpin, was first written about in the Gentleman's Magazine and Jack Sheppard, the robber and master-escaper, was in many ways a forerunner of the great train robbers in terms of his popular appeal. He escaped from prison four times, had a vast popular following and was celebrated at the end of his life in Applebee's Original Weekly Journal, in a story that has been attributed by some to Daniel Defoe. Reports of Turpin's and Sheppard's crimes are a mixture of disapproval and fascination, which was to set the tone for crime reporting over the next 300 years.
With the arrival of mass circulation newspapers, crime reporters became the big-shots of the newsroom. From the 1930s the reporters who covered the field were known as the Murder Gang. Ethics were rough and ready and even murderers could expect a hefty payment for an exclusive. When women committed crimes they were often seen through a prism of disapproval as 'femmes fatales', 'gangster's molls' or 'black widows'. Women crime reporters had to fight their own way in to the closed circle of 'crime men' who hung out at Scotland Yard.
How were the cases of Dr Crippen and Ruth Ellis first reported? What relationship did crime reporters have with the police on the occasions when the wrong man was hanged? Who were the Silent Men who went jail rather than reveal their sources? Who got the scoops at 10 Rillington Place and 25 Cromwell Street? From the London Hanged to the Krays and the Richardsons, from the Emperors of Porn to the Princes of Darkness.
The world of crime fact rather than crime fiction - although the lines were often blurred.