Ed Glinert Biography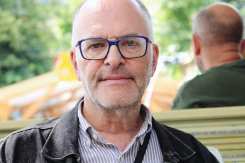 Ed Glinert has been a journalist and writer since the days of hot metal, galleys and bromides. He has written more than a dozen books for leading publishers – Penguin, HarperCollins, Bloomsbury, Fodor's and Emons – is an Arts Society lecturer, Cruise Ships speaker and one of Britain's most prolific tour guides, operating in London, Manchester and Liverpool. After jointly winning student journalist of the year in 1981, Ed set up Manchester's City Life magazine and ran a series of hard-hitting investigative pieces on council incompetence and police corruption. This earned him not a spell inside but a job with Private Eye magazine throughout the 1990s. He also worked at the same time for Mojo, the rock 'n' roll magazine.His first book was A Literary Guide to London (1998, Penguin) and his most successful The London Compendium (Penguin, 2003). That year Ed joined the revered London Walks outfit and in 2009 set up New Manchester Walks. In the Covid era he has produced three titles for Emons' 111 series: on London's East End, Yorkshire and Essex. One of his writing ambitions is to cover the country with more compendiums and to write the definitive history of Manchester. He spent lockdown on his ridiculously ambitious blockbuster Kabbalah thriller.
How I Found the Agency
Having lost my long-standing agent, I sent round a few begging letters and Andrew was kind enough to respond, helped by the fact that one of my books was on his shelf in a sticking-out, about-to-be-used position.