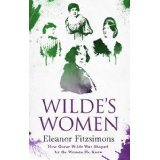 This groundbreaking new book explores the many rewarding relationships that the writer Oscar Wilde enjoyed with a series of fascinating and accomplished women throughout his life.
The whole world is fascinated by Oscar Wilde, yet his life is constantly defined in terms of his relationships with men and this imbalance is rarely challenged. The rise of the 'New Woman' movement coincided with Wilde's popularity and a group of free-thinking, influential and accomplished women coalesced around him.
The first of these was his delightfully eccentric and accomplished mother, Jane. When he toured America Oscar was often introduced as her son. They shared tragedy when his sister Isola died in childhood. Oscar was distraught and kept a lock of her hair for the remainder of his life.
His friendships and collaborations with Lillie Langtry, Sarah Bernhardt, Louise Jopling and Ellen Terry had a profound effect on his work. Women funded, informed and inspired his writing, and gave him access to vital publicity. He based some of his most memorable characters on them, reflecting their language, ideas and lives in his deadly serious social comedies. As radical editor of The Woman's World, Wilde commissioned articles concerned 'not merely with what women wear, but with what they think, and what they feel'.
Long before he turned his attention to men, Oscar loved a series of beautiful women. Florence Balcombe abandoned him for Bram Stoker but his wife Constance, an influential and accomplished woman, showed remarkable fortitude and loyalty when faced with his intolerable infidelity.
Meticulously researched and using rarely examined source documents this book puts the women back into Wilde's life and allows them to shine.