Fidan Bagirova Biography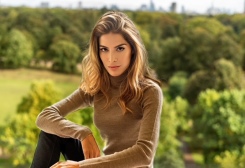 Besides being a writer, Fidan Bagirova is a sculptor and multimedia artist living and working in London and New York. Fidan's art takes inspiration from nature and from cultural history. She is interested in issues of immigration, religious reconciliation, multiculturalism, and cultural heritage. All of these themes have influenced the writing of Princess of Karabakh.
Fidan was born in Geneva, into an Azerbaijani family with deep historical roots in the Karabakh region. Along with hundreds of thousands of others, her family's properties in the region were lost during the Armenian invasion described in Princess of Karabakh. For Fidan, writing this novel has been a way of expressing her longing for the Azeri people's identity and stolen heritage.
After studying International Relations at the University of Geneva and Journalism at London City University, Fidan turned to art, studying at the Inchbald School of Design in London, the Azerbaijan Art Academy in Baku, and the New York Film Academy. Since 2016 she has exhibited or held art residencies in New York, Miami, London, and New Zealand.
Princess of Karabakh is her first novel.