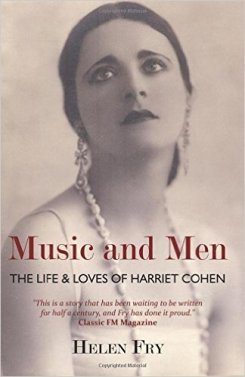 Albert Einstein called her 'The Beloved Piano-Witch'. Many famous men were besotted by her. Internationally acclaimed concert pianist Harriet Cohen was both beautiful and talented and became a household name in the 1920s and 30s. At the heart of this first biography is an epic love story between Harriet and the only man she ever truly loved – composer and married man Arnold Bax.
Based on previously unpublished love letters between them, the book charts their unquenchable relationship which set them on a turbulent forty-year path of love, lust and betrayal. The passion and poetry in their letters are arguably the most eloquent and best of the last century. They shared something far deeper than most lovers, something that touched the creative core of their souls – music. Harriet became the inspiration and mouthpiece for many of Bax's new works, some of which were dedicated to her and which she premiered in concert halls in Britain and abroad, most famously The Maiden With the Daffodil. Their relationship seemed invincible and indestructible. Their insatiable love led Bax to leave his wife and children in 1918, but they could never live together because Bax's wife refused a divorce.
This indomitable woman overcame personal tragedies attracted many famous public figures throughout her life. She was a forceful and politically-minded artiste who once refused to break an engagement at Mussolini's bidding. She was a personality with great wit and a conversationalist whose friends included George Bernard Shaw; D.H. Lawrence, Arnold Bennett and HG Wells. DH Lawrence immortalised her in Kangaroo and it is he who is thought to have given her TB after a brief affair. In the music world, her close friends included Sir Edward Elgar; Finnish composer Sibelius; Vaughan Williams and William Walton. Politically, her friends included Ramsay MacDonald, the first Labour Prime Minister; Lloyd George, Eleanor Roosevelt; and Chaim Weizmann, the first President of Israel. Her close friend Rebecca West based her novel Harriet Hume on her.
Bax's wife Elsa died in September 1947, something which Harriet did not discover until the will was published nine months later. She believed that now Bax would marry her, but he harboured a dark secret. His ensuing confession was to have devastating consequences.