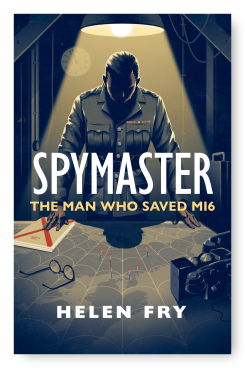 Thomas Joseph Kendrick was one of the British Secret Service's most senior spymasters in the 20th century. From tracking Communist agents across Europe in the 1920s to Nazi spies in the 1930s, Kendrick was placed as SIS head of station in Vienna, a capital at the heart of Europe's espionage hub - and one of SIS's most important stations. In Vienna he crossed paths with the British spy and (later) traitor Kim Philby and Communist Edith Tudor-Hart, figures that would go on to rock the core of MI6 and the British Secret Service for decades. After Hitler's annexed Austria in March 1938, Kendrick and his staff worked in 12 hour shifts to save up to 200 Austrian Jews a day – a legacy of incredible humanitarian effort that has yet to see him fully recognised. Dubbed 'the elusive Englishman" by Hitler's Secret Service, his real identity eluded the Abwehr for over a year, until he was finally denounced by a double agent and found himself before the Gestapo in 'Soviet-style' interrogations.
Kendrick's arrest in August 1938 caused panic in Whitehall because it was feared that the whole the European network of British spies was at risk. The spymaster refused to give up the SIS network. He was unceremoniously thrown out of Austria and returned to Britain with a cloud of espionage charges hanging over him. He disappeared from public view but not from the ranks of the British Secret Service. He re-emerged during the Second World War, still operating a clandestine spy unit against Nazi Germany but this time from within Britain's borders. First at the iconic Tower of London and then at 3 other country estates, he operated one of the most far-reaching and important intelligence units of the war; and one which saw his teams working closely with Alan Turing, Dilly Knox and others at Bletchley Park.
In one of the longest-running deceptions and most comprehensive intelligence operations against and Nazi Germany in the war, Kendrick oversaw a new unit to secretly record the conversations of over 10,000 German prisoners of war at Latimer House and Wilton Park, as well as Hitler's captured generals at the stately house of Trent Park in North London. Norman Crockatt, head of MI9, would go on to congratulate Kendrick for 'the best deserved OBE of the war.' And told him '… you have done a Herculean task.'
By his incredible wartime operations, Kendrick had, quite simply, enabled SIS /MI6 to survive the disastrous Venlo incident of November 1939, but his intelligence unit also prepared Britain ahead of the Cold War. This new revised and expanded biography provides a major reassessment of one of the greatest SIS / MI6 spymasters of the 20th century.