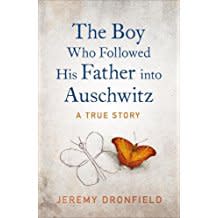 Published in North America as The Stone Crusher.
In 1939, Gustav Kleinmann, a Jewish upholsterer in Vienna, was arrested by the Nazis. Along with his 16-year old son Fritz, he was sent to Buchenwald in Germany, where a new concentration camp was being built. It was the beginning of an odyssey through a hell of slave labor, torture, brushes with death, and constant terror. They helped build Buchenwald, young Fritz learning construction skills which would help preserve him from extermination in the coming years. But it was his bond with his father that would keep them both alive.

When the 50-year old Gustav was transferred to Auschwitz – a certain death sentence – Fritz was determined to go with him. His wiser friends tried to dissuade him – "If you want to keep living, you have to forget your father," they said. But that was impossible, and Fritz pleaded for a place on the Auschwitz transport. "He is a true comrade," Gustav wrote in his secret diary, "always at my side. The boy is my greatest joy. We are inseparable."

Gustav kept his diary hidden throughout his six years in the death camps – even Fritz knew nothing of it. In it he recorded his story – a tale of survival and a father-son bond which proved stronger than the Nazi machine that sought to break them both.

A unique tale in the Holocaust genre: a story of tragedy and horror but also an adventure, an edge-of-seat read in the style of Dronfield's previous bestselling WWII book, Beyond the Call, with a similar uplifting emotional heart – human love and dedication amid the horror of war.

A panorama of the Holocaust through one family's experiences. In dramatic parallel storylines, the book narrates the fates of all six members of the Kleinmann family as they are torn apart by the Nazis: two taken and murdered; two escaping to freedom; and two sent to the camps and surviving.