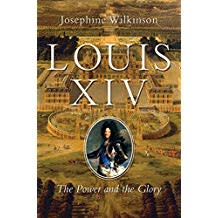 Louis XIV: The Gift of God is the first popular biography of Louis XIV since 2004. It makes extensive use of contemporary sources to provide a portrait of Louis that centres upon his all-important self-identification as the Sun King. This was reflected in iconography primarily by the sun god, Apollo, and it influenced every aspect of Louis's life.
It offers new insights into the Louis's absolutist monarchy, showing how his political philosophy was influenced by his childhood experiences during the Fronde and, especially, by his relationship with his minister, Nicolas Foucquet, which has not yet received the full attention it deserves in biographies of the king.
The overriding principle of Louis's life and reign was to control. This biography shows how Louis was driven to exercise unqualified micro-management of everything from his own image to other people's lives, especially those of his prisoners. Also highlighted is the inner conflict between 'Louis the king' and 'Louis the man'.
Louis as the Sun King provided the background for much of the artistic endeavour for which his reign is justly renowned. He was both muse and participant: he was a beautiful dancer, he influenced the design of Versailles and was justifiable proud of the gardens, even writing a guide in which the reader is directed to see them to their greatest advantage. As a military strategist, Louis's capacity was ambiguous, but he was an astute politician who led his country to the heights of sophistication and power - and then had the misfortune to live long enough to see it all crumble away. As the sun began to set upon this most glorious of reigns, it brought a gathering darkness filled with the anguish of dead heirs, threatened borders and a populace that was dangerously dependent upon - but greatly distanced from - its king.