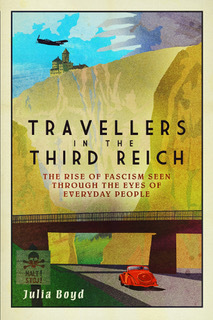 Travellers in the Third Reich tells us what happened in Germany between the wars but in a novel way. Based on first-hand accounts written by foreigners, it creates a sense of what it was really like, both physically and emotionally, to travel in Hitler's Germany. Scores of previously unpublished diaries and letters have been tracked down to present a vivid new picture of Nazi Germany that will enhance - even challenge - the reader's current perceptions. For anyone born after the Second World War, it has always been impossible to view this period with detachment. Images of Nazi atrocities are so powerful that they can never be suppressed or set aside. But what was it like to travel in the Third Reich without the benefit of post-war hindsight? How easy was it then to know what was actually going on, to grasp the essence of National Socialism, to remain untouched by the propaganda or predict the Holocaust?
These questions, and many others, are explored through the personal testimony of foreign visitors to the Third Reich. Among them are celebrities like Charles Lindbergh, Lloyd George, the Maharajah of Patiala, Francis Bacon, the King of Bulgaria and Samuel Beckett - to name just a few. But even more telling are the experiences of ordinary travellers, ranging from pacifist Quakers to Jewish boy scouts; African-American academics (one of whom had a remarkable meeting with Hitler) to First World War veterans. Students, politicians, musicians, diplomats, schoolchildren, communists, poets, journalists, fascists, artists, and of course tourists - many of who returned year after year to holiday in Nazi Germany - all have their say as well as Chinese scholars, Russian princesses and a pro-Nazi Norwegian Nobel laureate. The impressions and reflections of these assorted travellers naturally differ widely and are often profoundly contradictory. But drawn together they generate an extraordinary three-dimensional picture of Germany under Hitler – one so palpable that the reader will feel, hear – even breathe the atmosphere.
These pre-1945 travellers' tales also make it clear that it was by no means as easy to gain a proper understanding of Nazi Germany as we often assume. Disturbing, absurd, moving, and ranging from the deeply trivial to the deeply tragic, they give fresh insight into the complexities of the Third Reich, its paradoxes and its ultimate destruction.