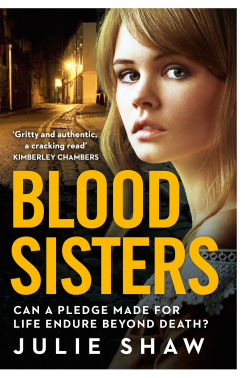 Lucy And Vicky, both raised in Bradford, have been the best of friends since nursery school, and from the age of twelve, when they made a secret pledge of undying loyalty, they have been Blood Sisters as well.
But now they are young woman, and that loyalty is about to be tested. In Lucy's case, by her relationship with copper's son, Jimmy, and his sworn enemy, Paddy, local bad boy and small-time criminal - who Jimmy's dad is determined to see behind bars, and also happens to be Vicky's boyfriend.
Set in the gritty urban landscape of late 1980's Bradford, Blood Sisters tells the story of a friendship torn apart. Of two young woman whose bond will be stretched almost to breaking point, each of them determined to stand by her man and, in Vicky's case, by her child - Paddy's daughter. But, when animosity turns to hate, and hate leads to murder, the pledge they made in blood could not matter more. But will they be able to find their way back again?