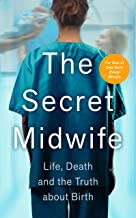 When we meet for the first time, it will be the most important moment of your life - you'll be in pain, frightened and about to become a parent. And I'm going to be the person who guides you through it. The trust is instant, the bond unshakable – everything at this moment feels heightened and intensified. You'll never forget this for the rest of your life. This is it - you're going to have a baby. And I've only got one chance to get this right.'
Philippa George is an NHS midwife on the frontline of the birthing battle.
For the last fifteen years she has helped deliver thousands of babies safely in all number of strange positions. She's been covered in every known bodily fluid, been pinched, bitten, skewered and had her hands in places you would never think possible.
But this is her dream job and she loves everything about it.
There is nothing more rewarding that seeing the smile of a new mum catching sight of her baby for the first time, or the tears of joy from a father holding his fresh infant. She's been there for the happiness but also the heartbreak too: for the babies that don't make it, for the parents left bereaved and the little ones born too soon.
There isn't much that would shock Philippa.
From the mother that tries to give herself a DIY caesarean to the baby born in witness protection, surprise infants that arrive down toilets or ones that turn up in the lift - as well as every conceivable complication.
In whatever state you arrive, Philippa will greet you with a warm smile and the calm, reassuring manner of a professional who knows exactly how to cope in every emergency.
But there's a problem. For the past six months Philippa hasn't been feeling quite right. Forget the endless 12 hour shifts, the constant staff shortages, management failings, legal battles, the sleeplessness, worry and the stress of the job… Philippa has been feeling unwell. She starts to unravel in unexpected ways and then, in an extraordinary turn of events, Philippa finds herself sitting at home instead of going to work for the first time in her life, signed off work with stress and depression. Unable to take in what has happened to her, she starts to write and gradually, she begins to understand what has brought her to this point.
'I'm in a caring profession,' she says. 'We care desperately about the women and the families we help. But who cares for us?'
With the support of her loving family and friends, Philippa eventually recovers her strength and confidence, returning to work after four months. But she has gained a new insight into her predicament and that of her fellow midwives and now she's ready to share her story.
Stand and Deliver is an extraordinary, funny and heart-warming first-hand account of modern midwifery in the NHS. It is also a hard-hitting exposé of how chronic underfunding and mismanagement have led to a crisis in the profession.