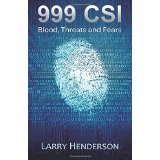 When Larry Henderson joined London's Metropolitan Police in 1971 as a Scenes of Crime Officer (SOCO), he thought it would make 'an interesting career'. He wasn't disappointed.
For more than two decades, Larry worked with just about every police department, in every field, from terrorism to armed robbery, and from blackmail to murder, eventually becoming the head of the Flying Squad's forensic team, and the UK's most experienced SOCO. Among countless other events, Larry was called upon to work on the Marchioness disaster, the Broadwater Farm riots, Operation Emerge (the seizure of a tonne of cocaine), the Security Express robbery (£6million in cash stolen) and the infamous murder of baby Louise Brown.
Larry joined the Flying Squad during what was arguably the busiest, most exciting and dangerous period of its existence. He dealt with some of the UK's most terrifying villains and witnessed deadly shoot-outs first-hand.
Larry also worked on cases featuring Christine Keeler, Cecil Parkinson, Enoch Powell and Lords Lucan and Devonshire, among countless other politicians and dignitaries, and has dealt with terrorists, murderers, safe blowers, rapists, blackmailers, serial flashers and sadomasochists.
Throughout his career, Larry risked his neck (he has been attacked by dogs (twice), a python (once) and fallen seriously ill from a crime scene related infection) and worked tirelessly to improve the science and methods of crime scene examination. His groundbreaking work is exhibited in Scotland Yard's Crime Museum.
999 CSI provides an unforgettable insight into the highs and lows of a life dedicated to forensics, a journey that takes us into a world that we never get to see, a world filled with cruelty matched only by the courage of those who work tirelessly for justice. At turns breathtaking, fascinating, hilarious and tragic, Larry Henderson lifts the lid on a truly astonishing world.