Leslie Howard Biography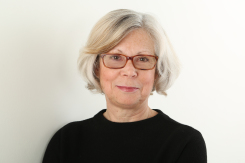 Dubbed "the family story teller" from an early age, Leslie often made up tales in the back seat of the family car as she traveled the British Columbia backwoods campaign trail with her politician-father. During those "crazy car rides with Dad" she grew to love the people, the stunning landscape and the history of this unique part of the world, and she yearned to write about them. But recognizing that a career in writing would not pay the bills she chose finance instead. She earned a degree in Economics and Political Science from Carleton University in Ottawa, Ontario and enjoyed a successful seventeen-year career in investment and international wealth management with one of Canada's leading financial institutions.
Later she became a consultant to the non-profit sector, advising charities on obtaining and managing large complex gifts. Here she was able to develop her latent passion for writing with many nonfiction articles published in newspapers, websites and trade journals. That led her back to fiction in the form of short stories, a novella and two novels. The Brideship Wife is her second. Leslie has been awarded an Ontario College Graduate Certificate in Creative Writing from the distinguished Humber College under the mentorship of the award winning author Sandra Birdsell.
Married with two grown children, Leslie divides her time between Vancouver and a small farm in the beautiful Naramata Bench area of the Okanagan Valley, a stone's throw from where she and her husband grew up.
How I Found the Agency
As a first time novelist, I knew that finding a Canadian agent would be extremely challenging as their numbers are small and few accept unsolicited submissions. Feeling that my work might best find a home in the UK, I read From Pitch to Publication by Carole Blake and searched agent's websites for a good match with my genre and style. I was attracted to the scope of the Andrew Lownie Agency as well as their professionalism. I liked what I read in David Haviland's biography, a man with a sense of humour and a very strong background that lends itself well to the role of an agent. After fine-tuning both my query letter and synopsis, I submitted them. And of course I was delighted when David offered to take me on.