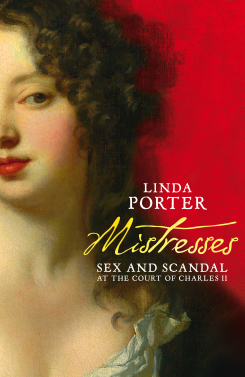 Good-time girls, society beauties, fascinating Frenchwomen, aristocrats and actresses – Charles II was, according to the diarist John Evelyn, 'addicted to women.' History remembers him as the 'Merry Monarch', clever and urbane, the most successful of the Stuarts, indulgently presiding over a rollicking court, where the puritanism of Cromwell's England was swiftly banished. In this world of hedonistic excess, there was no shortage of ladies willing to succumb to the charms of the tall, dark and handsome king, who had spent fourteen years in exile as a penniless wanderer through the courts of Europe. His restoration at the age of thirty was the stuff of fairy tales. Who could not fail to find him attractive?
This book will tell the story of the women who shared his bed and their influence on the politics and cultural life of the reign. They were more than sexual distractions for a man who disliked the business of government. Intimate access to the king meant that their favour was sought by politicians concerned with England's future direction and their patronage was important to the arts. Charles's mistresses and their brood of children could not be ignored. Against a backdrop of plague, fire and ice, at a time of growing religious tension, concerns about the succession and bitter warfare in Europe, the king's private life became public property, with results that were divisive for English society.
Using a wide variety of original sources, including material in private archives, Loose Ladies takes the reader into a period that is both glamorous and sordid, where artifice is everything and love in short supply. Here are Lucy Walter, the typical lady of easy virtue, Barbara Palmer, the greedy and promiscuous courtier, Frances Teresa Stuart, the one who got away, 'pretty, witty' Nell Gwyn, history's most famous orange-seller, her fellow-actress, Moll Davis, who bore the last of the king's fifteen illegitimate children, the chubby French aristocrat, Louise de Kéroualle, used as a spy by Louis XIV and the Italian-born Hortense Mancini, duchess of Mazarin, sexually ambiguous but distractingly beautiful. And then, often overlooked, as she was in life, is the forlorn and humiliated Queen Catherine, the Portuguese princess who had the misfortune to be Charles II's wife. Of all the women who slept with the king, she was the only one who truly loved him.
For at the centre of this tale is Charles himself. He has been described as a star king and a gambling man but in truth he was neither. His bonhomie hid a man who was cynical and never forgave those who opposed him, who was utterly selfish but committed to preserving the Stuart dynasty and to ensuring that the throne passed to his brother, James, the least favourite of his siblings. Surrounded by debauchery, contemptuous of politicians, uncaring about the welfare of his subjects, he was only really happy when sailing his yacht in stormy seas. It is a fitting metaphor for his life. He knew how to govern men and charm women but he remains one of the most unfathomable of all British sovereigns, a dissembler even to himself.