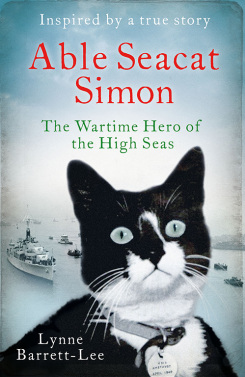 'I knew about humans. Sometimes they liked to offer things to you and then, when you plucked up the courage to inch closer, would grab you and take you and put you in a cage. Oh, yes, I knew all about that.
I shrank back against sacks piled around me and hissed.
The man laughed and bent down. 'Don't be scared, little feller,' he said. 'Don't be frightened.' And then he reached all the way and just as I tensed, petrified, he smoothed his huge human hand all the way down my back, like the lady in the big house by the jetty used to do.
'There,' he said. 'My, you're just skin and bone, aren't you? Shall I see if I can find you something to eat?'
My heart leapt. He meant food. And I was starving, so I wavered. But my mother had warned me. Most humans weren't like the lady in the big house. I saw my chance. Spied the nearest sack. Made a leap and scrabbled up it. Then ran away just as fast as my legs could carry me.'
1948. The docks of Hong Kong. Where a young orphaned kitten, bereft, scared and alone, is doing his best to survive. It's a hard, frightening life, and his hunting skills are minimal, so when befriended by a young sailor from one of the ships docked in Victoria Harbour, he eventually trusts him enough to take food from him. But it seems the sailor, who is missing his own cat back in England, is after more than just a temporary friend. He names the kitten Simon, and when his ship, HMS Amethyst, is ready to sail, he decides to smuggle him onboard.
So begin the adventures of Able Seacat Simon, a stray kitten from the naval base of Stonecutters Island, who narrates the story of his new life at sea. Adopted as official ship's cat aboard the naval Frigate, HMS Amethyst, Simon – so named by the ordinary seaman who found him – soon settles down to the seafaring life. Becoming well fed and sleek he soon hones his rat-catching skills, and, once he's won round the captain (and wheedled his way into his cabin) enjoys a life regularly punctuated by strokes and sardines, from the sailors who, far away from loved ones at home, find his presence such a joy.
But Simon's is not just a tale of a curious young cat living out his nine lives at sea. Though his first months in service pass peaceably enough, everything changes once the Amethyst is ordered to sail up the Yangtse to provide protection for the British Embassy in Nanking, and finds herself in the middle of a terrifying battle between opposing sides in the Chinese Civil War…
Able Seacat Simon is the only cat to have been awarded the Dickin Medal; the PSDA's 'Victoria Cross' for 'our non-speaking friends' who've shown exemplary courage and devotion to duty. Thought to be fatally wounded in a battle that ended the life of his beloved captain, Simon not only survived his injuries, but returned to his duties, guarding the ship's fast dwindling stores from an ever increasing rat population, and providing solace to the many injured sailors. He also went on to be decorated twice, was the recipient of thousands of messages and gifts and became, arguably, the world's most famous cat.
This is his story…