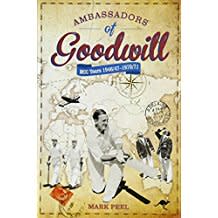 Ever since Victorian times, the MCC had fully embraced the amateur ideal that cricket was more than a game, it was the very essence of camaraderie and good sportsmanship. Yet for all their evangelising and moral posturing, the game's privileged elite were part of a British establishment which revelled in its national prestige and imperial hegemony. Winning at cricket, as with other sports, was essential to maintaining that hegemony. This books looks at MCC tours between 1946-47 and 1970-71 and assesses to what extent they were able to marry these conflicting objectives.
While the amateur ideal held good in the immediate post-war era, it became harder to maintain once Len Hutton was appointed England's first professional captain in 1952. An intense Yorkshireman with little love for his opponents, his tour to the West Indies in 1953-54 was a diplomatic disaster, and his epic victory in Australia the following year was somewhat tarnished by the aloofness of his players towards their hosts. After Peter May's disastrous tour to Australia in 1958-58 when England lost 4-0 amid bitter allegations of throwing, MCC resolved to improve their image. The appointment of the forceful Walter Robins, an amateur of the old school, to manage MCC in the West Indies 1959-60 proved significant, because under his no-nonsense leadership the team went out of their ways to win friends off the field as well as winning on it.
The appointment of managers of greater stature ensured MCC's ambassadorial role was given priority during the goodwill tours of the early-mid 1960s, but changing attitudes thereafter put that diplomacy to the test. England's commendable win in the West Indies 1967-68 was marred by crowd unrest and third world nationalism, and the likely inclusion of Basil D'Oliveira, England's Cape-Coloured all-rounder, on the MCC tour to South Africa in 1967-68 caused all kind of political ructions from the white supremacist government in South Africa. Their covert campaign to keep D'Oliveira out of the team coalesced with the England selectors' own reasons for omitting him- not known at the time or subsequently and which this book reveals.
After the cancellation of the South African tour following D'Oliveira's last-minute inclusion, and a disastrous alternative to Pakistan, where the team became embroiled in a mass movement against the military government of Ayub Khan, further trouble marred MCC's Ashes-winning tour to Australia in 1970-71. This time it was the hard-nosed professionalism of the captain Ray Illingworth pitted against the amateur ideals of the manager David Clark and the vice-captain Colin Cowdrey. It was Illingworth who emerged victorious but the image of the game suffered, symbolic of MCC's waning influence in a more materialistic age.