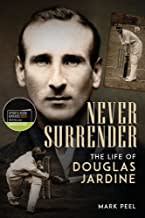 Douglas Jardine was England's most controversial cricket captain, forever associated with bodyline bowling on MCC's tour of Australia in 1932-33.
Raised in India at the turn of the 20th century, Jardine's long separation from his parents and his austere war-time education at Winchester College helped shape his steely personality and his win-at-all-costs ethos more akin to the professional game.
Taking an instant dislike to Australia and Australians on a previous tour, he set out to intimidate them into submission in 1932-33, thereby neutralising the threat from their brilliant young batsman, Don Bradman.
Possessing one of the greatest fast bowlers of all time in Harold Larwood, Jardine realised his ambition, becoming one of the few England captains to regain the Ashes in Australia, but his bodyline tactics shocked his hosts and brought Anglo-Australian relations to the point of collapse.
In order to restore harmony, the fickle English cricket establishment disowned Jardine and shunned him for the rest of his life. For many years he remained a diminished figure, but now, in a more materialistic age when winning has become ever more important, his reputation has enjoyed something of a revival.
In this reassessment of Jardine's life, Mark Peel draws on much fresh material to depict an altogether more rounded figure whose steely reserve concealed an outstanding leader, whose generosity to those he respected knew no bounds.