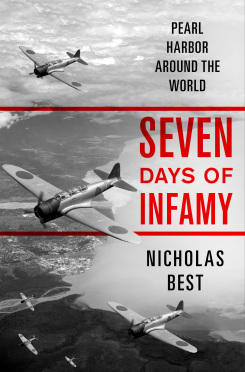 December 7 1941, a day that would live in infamy, was one of those rare occasions in history when people all over the world remembered exactly where they were and what they were doing when they heard the news. American outrage at the Japanese attack on Pearl Harbor was matched by relief across the free world and incalculable despair in Germany as the implications became clear. There was no doubt who was going to win the Second World War, once the United States had joined in.
This is the story of those momentous days, but it is also a snapshot of the whole world during an extraordinary week in its history. Everybody had a memory of Pearl Harbor, from Marlene Dietrich in Hollywood to Audie Murphy in a radio repair shop, Ernest Hemingway on the road in Texas and Jack Kennedy playing touch football in Washington. Mao Tse Tung was training his forces in Yan'an when he heard. The Jews in the Warsaw ghetto cheered, because United States involvement in the war surely spelled salvation for them.
As with his previous books, The Greatest Day in History and Five Days that shocked the World, Nicholas Best draws on a wealth of unfamiliar material, both military and civilian, to tell a truly compelling tale. Beginning three days before Pearl Harbor, he charts the story across Europe, America and the Far East, ending a week later in Berlin as Adolf Hitler contemptuously declares war on the United States, the mightiest industrial power on earth, thereby signing his own death warrant.