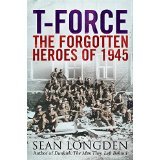 'Target Force' is the forgotten story of one of World War Two's most unlikely elite units. Formed from a number of 'second line' infantry battalions – augmented by scientists, technicians and even 'safe-crackers' released from UK gaols – 'T Force' crossed the Rhine in March 1945 with the orders to seize and secure German military and economic secrets and technology. The race to secure these German assets was spurred by the western leaders' growing realisation of the menace posed by the Soviet Union. Their aim was to prevent potentially vital military secrets falling into Soviet hands.
In the final months of war, and the first months of peace, 'T Force' went in search of German nuclear scientists, uncovered deadly new military gases, seized the plans for the highly advanced next generation of 'U Boats' and even captured a German cruiser in the port of Kiel. On VE Day 'T-Force' was one of the furthest advanced British units, having seized the port of Kiel, defying the order to halt following the German ceasefire.
In the months following VE Day 'T Force continued its work, searching for German rocket scientists and uncovering hidden research laboratories. Throughout 1945 they secretly entered the Soviet zone to locate German nuclear scientists, ensuring their knowledge was available to the western allies. As one veteran commented: "We may not have won the Cold War, but we made sure the west didn't lose it."
Written with the full co-operation of the 'T-Force Old Comrades Association' this book reveals for the first time the forgotten beginnings of the Cold War – a conflict that stared before World War 2 had even finished.