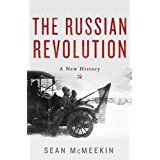 At the distance of a century, the Russian Revolution still exerts a powerful pull on the political imagination. The faith of Marxist-Leninism inspired millions in the twentieth century; the spectre of Communism on the march terrified millions more. Even now, a quarter-century after the collapse of the Soviet Union, Lenin's legacy endures. The Communist Party still rules in China. On the Korean peninsula, the Cold War refuses to die. The "capitalist" West, improbably, has seen a resurgence of Marxist faith in the wake of the global financial crash of 2008, scarcely a generation after Marx's obituary seemed to be written in the fall of the Berlin Wall.
It is well, therefore, to be reminded what the whole thing was about. In this timely new study, Sean McMeekin recreates more vividly than ever before the atmosphere of 1917, explaining what really happened in Russia under the strain of world war. Far from the "class conflict" of Marxist legend, the Revolution, McMeekin shows, grew out of a peculiarly Russian blend of mutiny, political demagoguery, popular fury, and not least, government incompetence. Piggybacking on Russia's agony, pocketing German subsidies while fending off allegations of treason, Lenin and the Bolsheviks put their own stamp of fanaticism on the Revolution, seizing power and issuing decrees abolishing private property of any kind (even money). Pursuing policies more radical than socialist dreamers had ever believed possible, the Bolsheviks enthralled the world – and produced an unprecedented economic catastrophe.
Using never-before seen files from the Soviet archives, McMeekin has produced the definitive account of Bolshevik finances, showing the hidden material reasons the Reds were able to defeat all comers in the Russian Civil War and to spread Communist propaganda to every corner of the globe.
The Russian Revolution captures all the drama and exhilaration of the Bolsheviks' struggle to, in Trotsky's words, "overthrow the world," using Russia as a launching pad for global revolution.