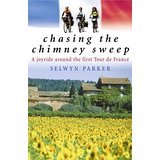 In the middle of the hottest French summer for years, writer and amateur cyclist Selwyn Parker and his partner Margaret set off with two friends on a romantic and sweaty quest: a 2,400-kilometre attempt to retrace the route and the history of the very first, impossibly gruelling Tour de France in 1903.
In the original race, some of the racers became so fatigued on non-stop, 400km-plus stages over roads that were often clogged with mud and dust that they hallucinated. Most of them suffered heavy falls, often in pitch darkness in the dead of night. One was poisoned. Unsurprisingly, many did not last the distance.
A century later the bicycles are much lighter and faster but the intrepid quartet face their own challenges – burning heat, an imperfect knowledge of the French language, difficulty with maps, atrocious hotels and roaring highways instead of the almost empty roads of yesteryear.
Chasing the Chimney Sweep is a funny, engaging, surprising travel book which combines the adventures of the tenacious cyclists with fascinating stories of what happened in 1903.